Pale Green Apophyllite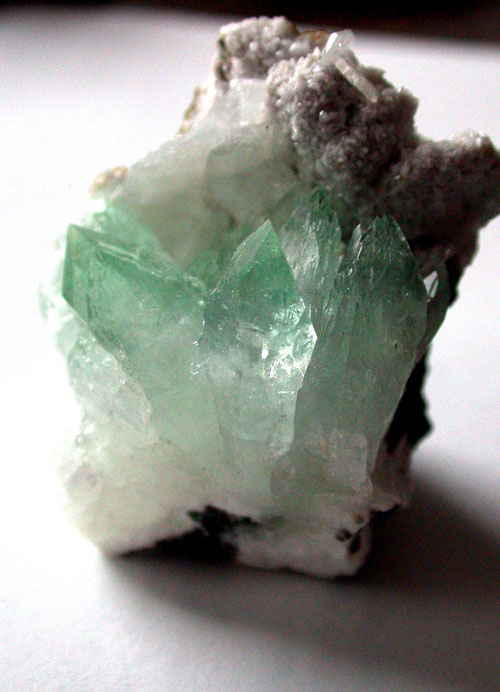 Size: 4.1 x 3.6 x 2.6 cm
Crystals: 1.8 and 1.7 cm long
This lovely thumbnail speciman has several pale green crystals in excellent shape, very transparent. Contrasted with the snow white background and the almost velvet like gray and green matrix, it's one of the prettiest pieces in the collection.
From the description provided by Amethyst Galleries, where I purchased it (sorry, no link to this item):


Dim: 4.6 x 3.8 x 3.0 cm Wt: 1.46 oz 41.4 g Loc: Poona, India

This splendid thumbnail has about 6 complete crystals on it, along with the remains of one badly broken one. These crystals occur in tetragonal prisms with steeply sloping pyramidal terminations that either have an edge or a point at their tips. They all hae a pale green color, a vitreous to pearly luster, and are transparent. The largest crystal measures almost 1" (2.5 cm) in length and over 0.2" (6mm) in width and depth. There are a few blades of stilbite present, some of which are damaged. The Apophyllite crystals intensify in color towards the terminations. They rest in a hollow that was once a part of a basalt jug; however, there is very little basalt host rock on this speciman.

As we can see, my measuring is not quite as precise as the folks at Amethyst. I only had a ruler, I don't have caliphers. However, I tried to error on the small side rather than the large so you'll be pleasantly surprised.
I paid 67.50 for this beauty, December, 1996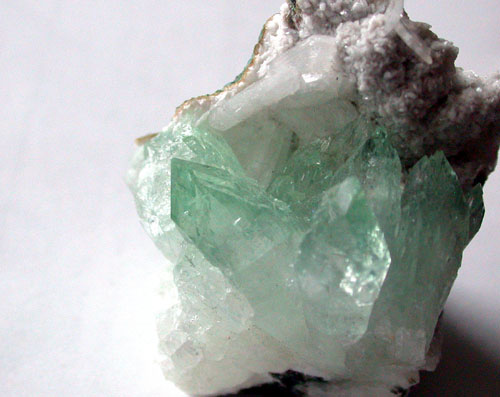 Posted by shelleyp at
08:35 AM
Mess o Apophyllite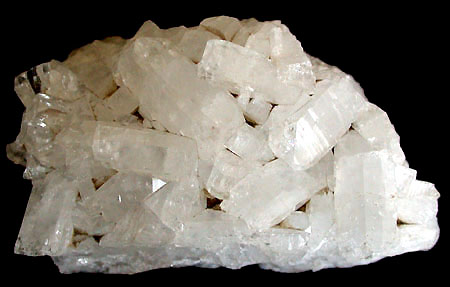 \
I call this piece the 'mess-o-Apophyllite' piece. That's what it is -- a hand sized example completely covered with distinctive, decently shaped apophyllite crystals, clear in color.
Lots of internal fractures, but overall a nice piece.
Pune, India
Size: 9 x 6 x 5 cm
Tucson Mineral Show, as part of a flat
Estimated value at time of purchase: 25.00
Posted by shelleyp at
08:35 PM
Apophyllite with Pale Pink Stilbite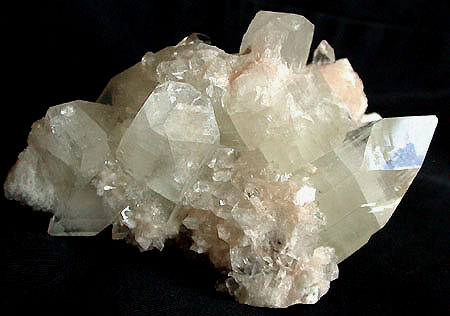 Hand crystal with apophyllite crystals, longest crystal 5cm in length. Good termination and clarity. Other apophyllite crystals in good to fair condition. Sample also includes pale pink Stilbite crystal in good shape, with known fan shaped crystal habit. Other smaller Stilbite and Apophyllite crystals form in and around the larger ones on a small, light colored matrix.
Pretty sample, one of the nicer Apophyllite and Stilbite examples in the collection.
Size: 11 x 6 x 5 cm
Purchased as part of a flat, Tucson Gem and Mineral show, January 2001
Estimated purchase cost: 25.00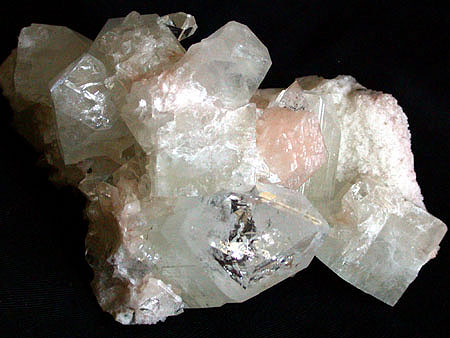 Posted by shelleyp at
12:46 PM
Apophyllite and Stilbite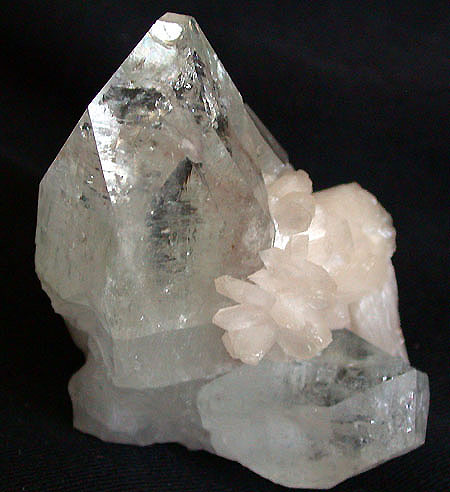 Three larger distinct apophyllite crystals, very clear, with largest being 4 cm long. This is paired with a cluster of pale pink, very close to white Stilbite, nestled in a flirtatous manner in the angle between two of the Apophyllite crystals.
This has always been one of my favorite pieces. I like the feel of Apophyllite, that warm, soapy feel to the surface, the bubble-like iridescence
Size: 5 x 3.5 x 5.5 cm
Purchased from Earthlight, Kirkland, WA 7/31/92
Price: $55.00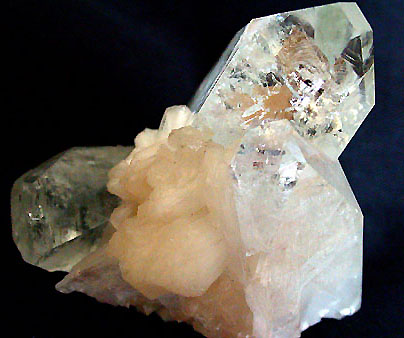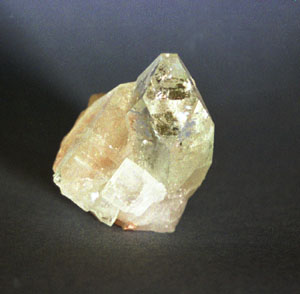 Posted by shelleyp at
06:55 PM
Tucson Apophyllite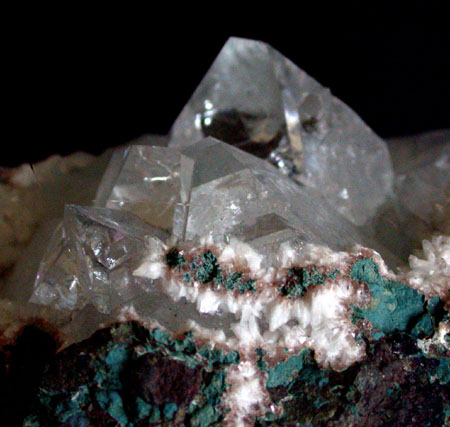 Apopyllite cluster, with several fair to good crystal. One stands out a bit above the others, with nice termination and excellent clarity. Colorless.
From Pune, India
Size: 9.5 x 8 x 6 cm
From Tucson Mineral and Gem show, purchased from flat of samples
Price: Estimated 20.00 - 25.00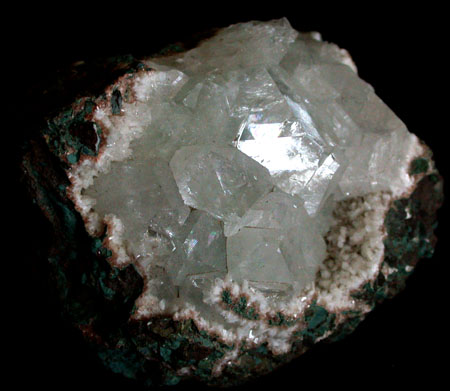 Posted by shelleyp at
07:17 PM
Stilbite and Apophyllite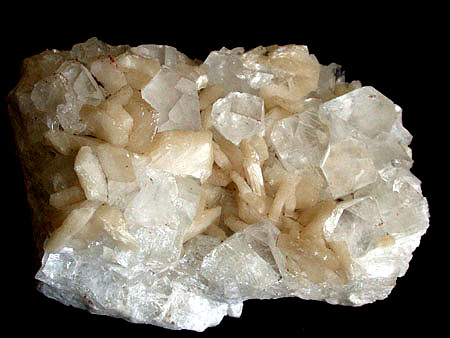 Hand sample made up equally of pale yellow Stilbite and small but well formed Apophyllite crystals. The mixture of the two minerals makes this example attractive.
From Pune, India
Size: 9 x 5.5 x 3 cm
From Tucson Mineral Show, purchased as part of a flat
Price: Estimated at 25.00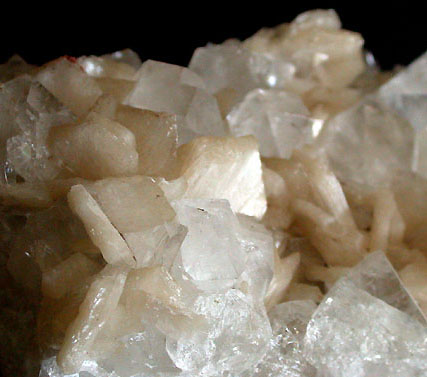 Posted by shelleyp at
08:01 PM
Pale Aqua Apophyllite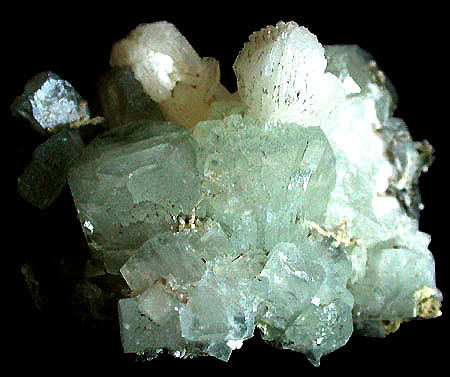 Unlike most of my Apophyllite examples, this one is a pale aqua in color, and quite pretty. The mineral is counter-balanced with white Stilbite.
Pune, India
Size: 6 x 5 3.5 cm
Purchased at the Tucson Mineral show, as part of a flat
Purchase price: estimated at 25.00
Posted by shelleyp at
08:15 PM
White Apophyllite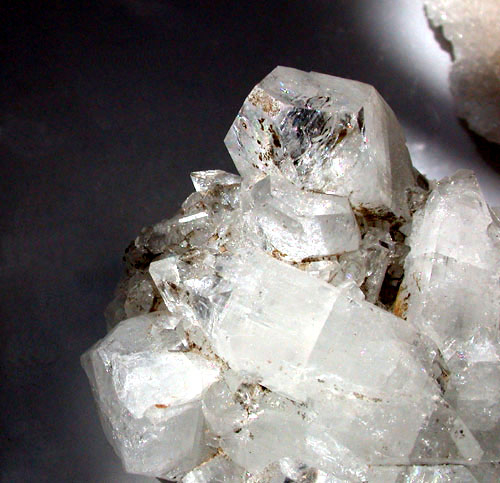 8.7 x 7.5 x 4.8
longest 2 at 4.5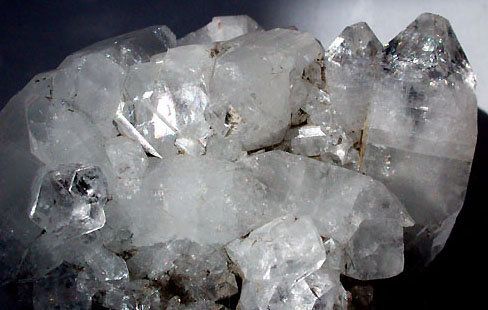 Posted by shelleyp at
12:13 PM