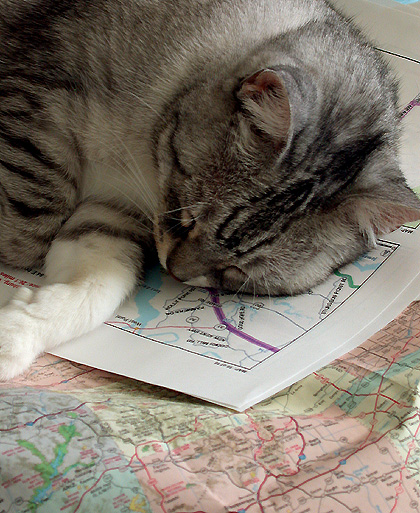 As is usual when I'm planning a trip, my favorite travel agent helped me with my maps and with my itinerary. I don't know where I'd be without her.
I took this photo as I was experimenting with uncompressed TIFF and RAW format photos. Though TIFF is the only supported format with my digital camera, there is a utility you can download that puts a Nikon 995 into a debug mode, which produces RAW formatted photos; however, it doesn't work with any of the other graphics utilities so I switched it back.
The move away from compressed JPEG is motivated by thoughts of filthy lucre and commercial gain. After reviewing sample photos sent last week, an editor of a travel magazine expressed appreciation of one in particular, and invited me to review the magazine's editorial calendar and submit photos for upcoming stories.
However, as another editor explained, most print publications demand an uncompressed high resolution large format digital photo, and many prefer film; so I'm trying to push the 995 to its limits, as well as digging out my 35mm cameras. (Well, borrow them from my roommate whom I gave them to. )
Can one return to film after the joys of digital? One can when it takes 10 seconds to record a high quality TIFF image. Life doesn't hold its breath and freeze in 10 second chunks.