Walking along the Riverway walk in San Antonio, I ended up at a large set of steps where a member of a local conservation group was introducing a golden eagle to the crowd.
While she was talking with people, answering questions and posing the bird for photographs, I was captivated by the identical expression on her and the bird's face and was able to capture a picture before she turned away to leave. What caught my eye wasn't that she looked like the bird, with piercing gold eyes or hooked beak; it was the serene confidence and fierce independence present in both their faces. It mesmerized me and I don't think I've seen a more beautiful image (people walking in the background notwithstanding).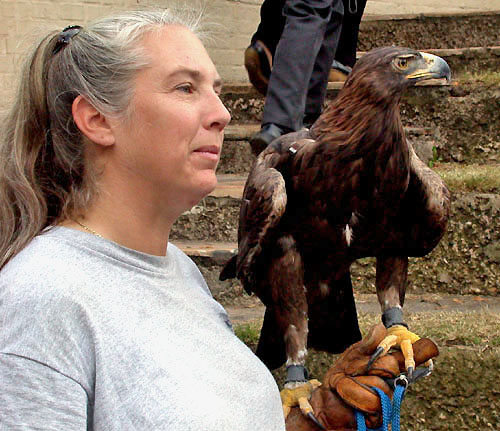 As I traveled this past week, driving through city and county and state and even nations if you include the reservations, I was in a continuous state of crossing from one border to another, one boundary to another, and would have to adjust my driving speed or behavior or what I did and when I did it — small changes at times but they existed. Sometimes the only indication that I had crossed a boundary was a sign saying, "Welcome to ______", but the sand was the same, the sky no different, the asphalt didn't vanish beneath my wheels (though at one point it did abruptly change from dark gray to a light tan).
Boundaries. We are surrounded by boundaries and it seems like there is very little room left for the individual when faced with all these boundaries. Instead, though, the individual stands strong and proud, just as the woman with her bird — unique within the boundaries both were born with and that fate had thrust around them.
The woman was born a certain sex with a certain eye color and certain talents and once was a young girl thinking young girl fancies. The bird was born with beautiful wings and keen eyesight and once flew the winds of the deserts. But the woman now had grey hair and the bird could no longer fly — time stepping in for one, a bastard with a gun for the other.
They stood there, faces profiled, formed by the boundaries around them, but you don't see a cage made by borders — you see something else. Something extraordinary.
The woman could have dyed her hair, or been a bank president, or disliked birds and people and disdained both. The bird could have chosen to die when shot, or to peck at the woman's eyes as she held him on her arm, but each chose a direction in the everlasting maze of life. Within the boundaries they had choice, and what they were at that moment, proud, strong, beautiful, was the product of the choices not the restrictions of the boundaries.
We are all born differently, but we share one common characteristic: we are all given boundaries from birth. We are born a certain color, with hair and eyes and facial traits and physical framework formed for us from genetic cookery that takes a bit of this, a dab of that and throws it into a container that becomes us. We can do nothing to change this. We are also given boundaries of language and culture and religion, and though some may see these as impermeable walls, they are malleable for those with sufficient resolve.
Years ago, the world was large enough that groups could form rigid boundaries around themselves and be content (unless a neighbor became overcome by avarice and smashed the boundaries using force). The ideal for humanity is respect for boundaries: language, culture, national, and religious. I know that as a child of the 60's, a flower child, one who danced about and loved all mankind equally, respect for others' boundaries was deeply ingrained in me. In many of us.
Today, though, the world is much smaller — the boulder has become a ball has become a marble and is now a pretty speck of green and blue and brown. One person's religious practice results in another's oppression; another person's cultural fears result in less freedoms for others. Our belief, and it is noble, that a person's religious, cultural, and national boundaries should be respected is crumbling in the face of a world with too many people and too little resources. These resources are drifting away like sands in an hourglass; where we should all be working together, trying to preserve that which is precious, instead we push and shove each other away, losing much in our greed and in our belief in our boundaries.
I listened to the talk on the radio about this Christmas present or that and Christmas sale after Christmas sale before the 25th, and after Christmas sales following. I watched as a man holding a sign begging for food at a stoplight in San Francisco, stood looking impassively into the car window of a Mercedes, at the man inside who was looking straight ahead, talking on a cellphone and oblivious to his surroundings. I looked in the paper at a woman crying because her entire family was killed in a quake in Iran because the buildings were not reinforced; they were not reinforced because the woman's government was too proud of its boundaries to seek help and other countries were too determined to take down those boundaries to offer it.
We have formed another boundary, the most terrible boundary of all: that of wanting more. We want beyond the limits of our needs, whether it is in possessions or power or souls; we go beyond satiation to saturation, and we have brought up our children to either seek, or, if denied, to take. Hands fighting at, pushing against, other hands as the sands slip silently past.
Like the woman, though, and like the bird, within this boundary — within all the boundaries — we do still have the ability to make choices. It's just that now, the boundaries are becoming so very strong and the choices so very difficult.