3 Quarks Daily pointed to a BBC News article on deer antlers.
Yesterday, when out walking I came upon a group of deer, including a young male who was using fallen trees to break off parts of his antlers. Luckily, this time I had a camera and could get pictures–including the male who alternated aggressive behavior toward the does, with insecure wariness of me.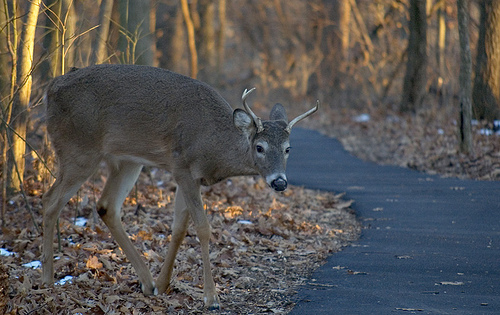 The males with their antlers and full, proud stances may make for better photos, but I hold the quiet, shy does in my heart. Their soft, sweet eyes and careful curiosity has accompanied me on many a trek through Powder Valley. Sometimes when I walk at dusk, I can feel them all around me, hidden in the shadows. Yesterday, though, for whatever reason, when I stopped and held very still, they entered and crossed the road around me–appearing back-lit by the setting sun, in a display of beauty and grace.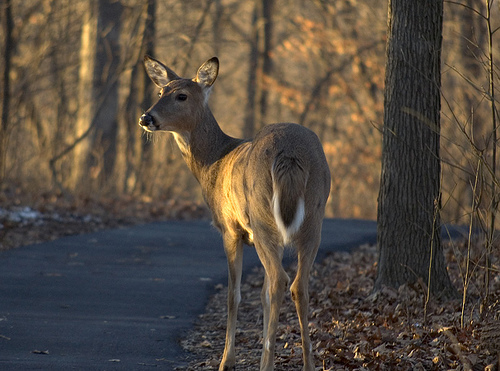 I have found if you wear sunglasses, deer will approach you more closely than if wearing clear lenses or no glasses at all. I think it's because they can't see your eyes, and they translate this into not seeing them. I have had deer, wild deer, approach within feet of me when wearing sunglasses.
My favorite interaction, though, is when the deer will remain in the bushes and when you look at them, they'll hide their faces quickly behind a tree. They think they're hiding from you because they can't see you, but their entire bodies are out in the open: torso, legs, and especially, white tail. If you wait just a minute, they'll peek back and when they see you still looking at them, back their head disappears behind the tree again.
It is humorous and endearing, but also a little sad.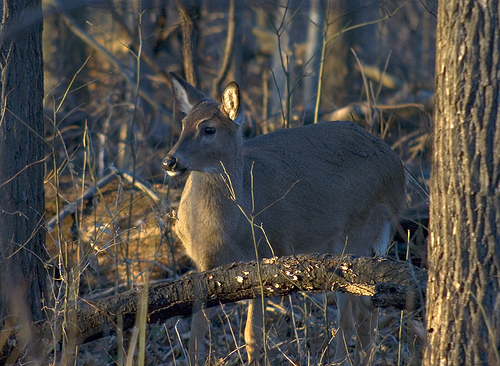 I can empathize with the deer; to be in the woods and thickets and looking out, knowing, or think we know that we're not seen.
My desk at home is in front of a set of screened, double windows on a second floor on a hill overlooking a large section of our housing complex. Sometimes during the day after I've had my shower, I'll sit in my chair at my computer, naked, water falling from my wet hair, slipping down my back and across my breasts.
I'll watch cars drive by, the mailman on his rounds, and people walking their dogs or going to the laundry room, and know they can't see me sitting here, in my chair, in the shadows.
Of course, at night or very early morning, before the sun has risen, I can be sitting in front of my window with the lights on and be just as back-lit as the deer yesterday. When I start to get undressed for bed, I look over my shoulder just to make sure both windows are tightly covered. Even when I see they are, I undress and slip into bed quickly–not quite trusting the shadows I cast against the blinds. The only time I'll open them at night is during a thunderstorm, when I can open the curtain and lay in bed, watching the light flashing against the rain blurred window.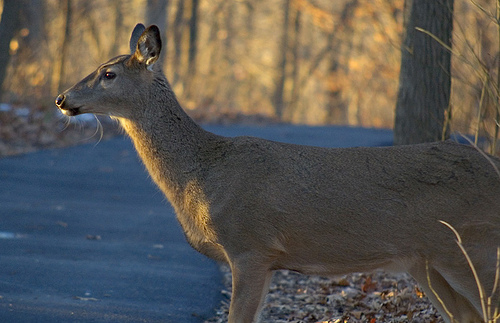 Writing is a little like being the deer hiding in the woods, or sitting naked in front a window on the second floor of a house on a hill. We may think we're in control, and that we're exposing just as much or as little as we choose. However, sometimes curtains open a crack, or the light falls just right and our shadows give us away.
There is something to be said for taking time to lurk–to pull back deeply into the dark and watch, rather than be watched. To be still, and just listen. To appreciate others dance in the sun.