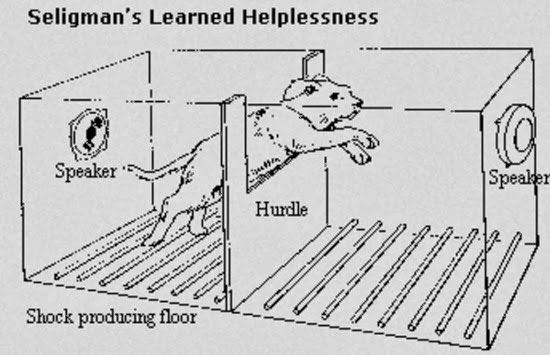 My senior psychology research project was about "learned helplessness", based on the work by Martin E. P. Seligman. He saw it as the underlying basis for depression, while I was interested in its effect on workers.
I have written about learned helplessness in the past. Oddly enough, one of the writings is titled, Learned Terrorism, posted in 2002. Others are The Value of Anger, and What's the Use?
I would never have dreamed that this theory would become the foundation for a system of torture used by the CIA against US prisoners. All I can say is the practitioners most likely discovered what I did, years ago: you can't artificially engineer "learned helplessness" directly. Not to the extent these interrogators wanted. You can in dogs, but you can't in humans. If anything, attempting to do so can have an opposite effect than the one intended. Rather than generate the helplessness that would, somehow, make the prisoners compliant, it could make them even more determined not to cooperate.
For learned helplessness to occur, circumstances have to meet a specific set of criteria. They would have to get the prisoners to internalize the current events; to see themselves as the cause for the negative circumstances. Yet individuals differ in how they internalize negative events–there is no one size fits all technique you can use to create the same effect with everyone. The person would also have to feel nothing they can do will change their circumstances. This runs counter to the seeming desired effect of the interrogators. After all, if you want a person to respond with information in order to prevent negative events, you don't engineer in them a feeling that no matter what they do, or say, nothing will ever change.
So if they did, somehow, engineer "learned helplessness" in the prisoners, in the hope of showing that the effects can be mitigated by providing data, the prisoners would not have been able to make this association. The whole basis of the theory is that the sufferer would have been unable to see the solution offered. Either the engineering would fail, and the prisoner would dig in, even harder, against cooperating, or the engineering would succeed, and the prisoner would become completely apathetic. In both cases, the prisoner would either say nothing (because of anger or apathy), or they'd say everything—they'd blather along until their captors seemed satisfied with their blather, completely indifferent to any possible negative consequences for giving incorrect information, because no matter what they did, nothing would change.
Unbelievable. Not only was the psychology abused and twisted, it wasn't even accurately applied.