Recovered from the Wayback Machine.
It is better to light a candle
than to curse the darkness.

Mother Teresa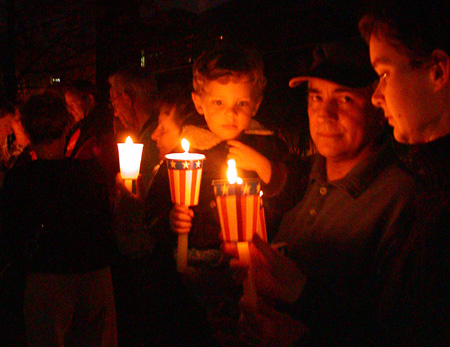 Over 300 people showed up to light a candle for peace. They lined both sides of the street and stretched a couple of blocks. For the most part, those in the cars who passed between raised their thumbs and honked in support; however, there were a few that were emphatically Bush supporters.
About half way through the hour long vigil, one lone dissenter showed up – a middle age man who stood across the street, holding up a Marine Corp flag. He nodded pleasantly at the people holding the candles; they waved back.
The people were smiling, but quiet, subdued. That moment of truth weighed heavy, as we stood shoulder to shoulder in an unbroken line of flickering light, sending a message of hope as ephemeral as the flame.