Recovered from the Wayback Machine.
I drove to a Pow Wow in Kentucky today, just now returning. The gathering was held at the Trail of Tears park, and if you don't know the story about the Trail of Tears, I'll be covering it later and providing some photos.
In addition to all of the tribal dancing, singing, and story telling, the Pow Wow also featured a Fire Dancer from Mexico. Fire Dancing is a re-awakened Aztec dance that involves, among other things, putting parts of one's body into a fire.
I thought it was interesting that before this dancer started, he kneeled on the ground, prayed for a minute, and then crossed himself. The irony of this, as you've probably already guessed, is that the Aztecs were basically destroyed by the Spanish, as they embarked on a mission as conquistadors to spread their Catholic religion; stopping along the way for a souvenir. Or two.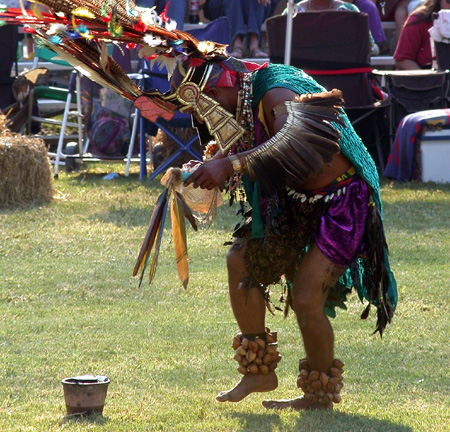 Speaking of religion, I wanted to extend AKMA congratulations on attending and presenting at BloggerCon, in a session titled Weblogs and their Spiritual Context. I still don't care for BloggerCon and its associated focus on the illuminati, but I'm not going to rag on anyone for going. If people can afford it or can get sponsored, and they obtain some good from it, then I say more power to them. However, I still reserve my right to continue to rag on the conference itself.
As to the conference, I have to wonder about the following, included in the description of AKMA's session:
Not only do bloggers have souls, about which some of them talk more or less often, but religious organizations have — or might be well-served to start — blogs. This session will involve reflections on the ways that blogs share features of the spiritual autobiography, and ways that blogs bespeak spiritual dimensions of our personae; ways that blogs can clarify congregational identity, both for curious observers and for reflective members; and ways that deliberate weblogging can enrich the spiritual lives of both individuals and congregations.
Not only do bloggers have souls… — that's an interesting statement to begin a description of a session on spiritual contexts and weblogs, especially after the discussions this last week. To be honest, I don't see AKMA's hand in this write-up, but regardless of who wrote it, well, all I can say tactfully in my tired state (Kentucky's a bit of a jaunt from St. Louis) is hmmm.
More on the Trail of Tears, the Pow Wow, and additional photos later.