Recovered from the Wayback Machine.
My internal clock is all screwed up, and went to bed about 8 and now it's 3 in the morning and I'm wide awake. The hotel I'm staying at in San Diego does have high speed internet access that actually works, and I'm able to upload a few pics.
Yesterday's travel from San Francisco to San Diego was uneventful, though today, Christmas Day, will be wet for part of my trip. It seems I am bringing a storm with me through my entire return travel to St. Louis, and I'll be meeting up with rain, and even the possibility of snow in southern Arizona in the higher elevations. December is not a good travel month, and I wouldn't recommend being on the road at Christmas, but I had business that needed resolution before the end of the year, and feel satisfaction in doing so.
Phone calls yesterday and day before, whether I was able to connect with you or not, well, they frankly cheered me up more than I can say. Lovely presents, every one. Sometimes virtual contact through email and blog and quick fingered IM isn't enough and you want to connect with the people you know, live, even if it's through a phone call rather than in person. The calls were like the visits we used to do going from neighbor to neighbor on Christmas Eve and Christmas, back when I was a kid.
And yes, I did go through LA with the cellphone stuck to my ear the entire time, just like a native – but since we crawled along the freeway at about 5 MPH the length of the city (which never ends by the way), I felt quite safe. I told AKMA that driving through LA (urh, Los Angeles) is like doing penance for being a very naughty person.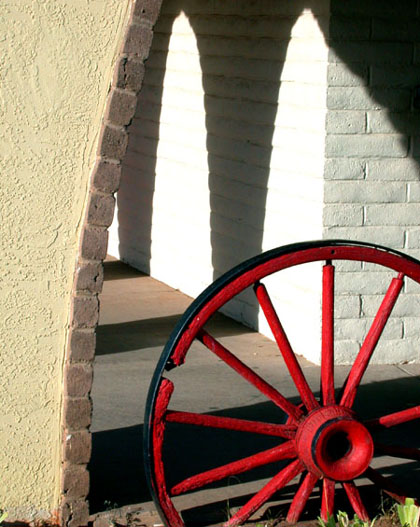 A couple of people mentioned that it was a brave thing to put my number online, but the only people who will see it are folks who like this weblog enough to read it during this holiday time and thus are friendly. I'll remove the number from the post when I get home, but I did have a call from a strange, crazed man last night. Oh, wait a sec – that was Chris Locke.
When I caught up with my weblog reading in San Francisco, Halley had written an essay about virtual intimacy and online connections at misbehaving.net that has sparked some good and thoughtful discussion. I am much like Mike Golby in comments to the essay, in that the people I've come to like here online are as important to me as friends met in a more physical sense. That's a scary thing at times because friendships formed here really are a true leap of faith.
Speaking of faith, I found one picture that I was going to post with a caption of "Found religion by the side of the road", just for AKMA (who also comments on Halley's post). However, I looked up the verses scrawled across the wall, and they reflect the wrathful side of Christianity that delight the more troubled religious fundamentalists in this country. They would rule here with equal parts zeal and hatred, like their compatriots in other troubled countries in the world, but for the grace of the laws of humanity that insist that we at least attempt to maintain religous freedom. I'd rather focus on AKMA and Margaret's love of a gentle God then the one that would delight in smiting down cities and 'false prophets'.
But I did so love the photo: the harsh contrasting light added a surreal touch of Americana that can only be found by traveling the Interstates in this country.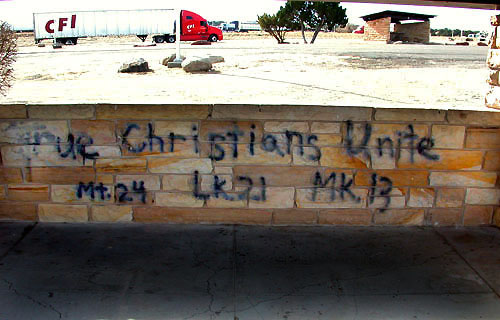 I won't have much chance for photos going home, thanks to the weather that will accompany me. Elaine mentioned the Coronado Forest area of SE Arizona and I looked it up also and definitely want to visit the area. Unfortunately, with the snow levels falling to 2500 feet, it will have to wait until my next trip. Not a trip to California, though; I've had enough of these to last me a lifetime. No long haul trips again in the foreseeable future – too much solitude on lonely highways and too much time to think, and thinking can be an activity that, like smoking, is dangerous to your health and sanity in this country.
Any country.
However, I did have beautiful weather for the trip out and found a photo that reflects sunnier times – even though it's yet another photo of yet another tree. But we'll see what we can find on the way home.