I had an incredibly good day today, but I am exhausted tonight. I got to the Balloon race site at 11:00, was there until about 6:30, and only sat down twice. But the weather was perfect, the people were wonderfully friendly, and the balloons were awesome.
I have oh so many photos to post. You're going to be sick of the photos over the next week. Not only did I fill two cards in my digital camera, but I also managed to take 5 rolls of film. I figured to space them out by inserting a few here and there in my posts.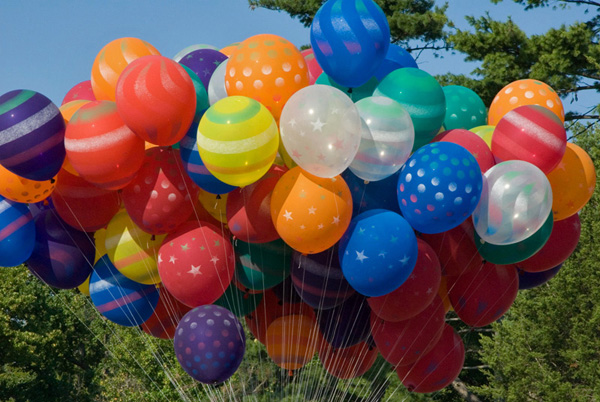 Forest Park is so pretty, and they had the balloon race in what's called the Great Basin area – a huge hill overlooking a lovely pool and fountains. This was a good choice because everyone had a good view of the balloons, and plenty of space to sit and stretch out; or like me, stand up to take photos and not have anyone tell me to sit down. In fact, I had a very pleasant conversations with a person who is the VP of the area's local Optimist Clubs (they provided periphery security as a fund raiser for their organization), a first grade teacher, and another photo buff, in addition to a couple of park police, and a guy who had bad knees (met him sharing a bench when I had to sit or fall over at one point).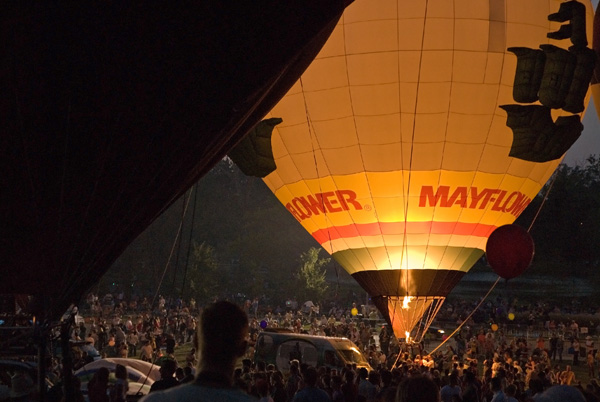 The great thing about this race is that they have a photo contest every year, and allow photographers to walk among some of the balloons as they fire up. So here are several of us trying to get the usual pics inside of the balloon, where the sun picks out the color of the balloon; however, there was a breeze and the Jack Daniels balloon kept falling over, so we were having more fun playing keep away from the falling multi-story booze bottle. (More on this balloon at Tin Foil.)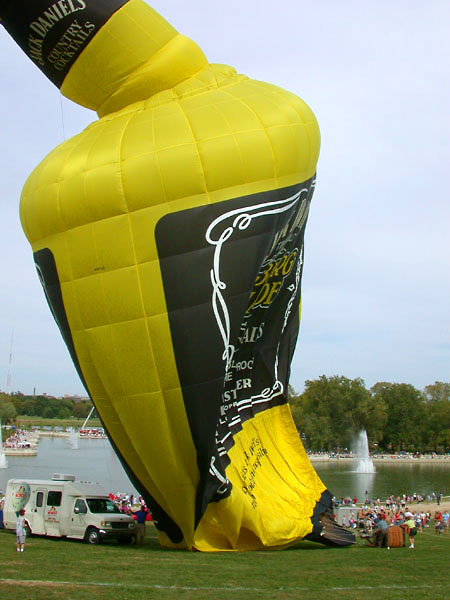 With another balloon, the crew let those of us who had a free hand actually help with holding the basket down. That one was great – to get so close to these big beasties is amazing.
Instead of sitting in the back or front, I picked a side location, and other than it being on a hill and standing for over three hours in one place, it was a perfect spot. I had a great view of the balloons, and when the parachuters who opened the show came in for a landing, they glided directly overhead. Those photos, though, are on film so you'll have to wait to see them.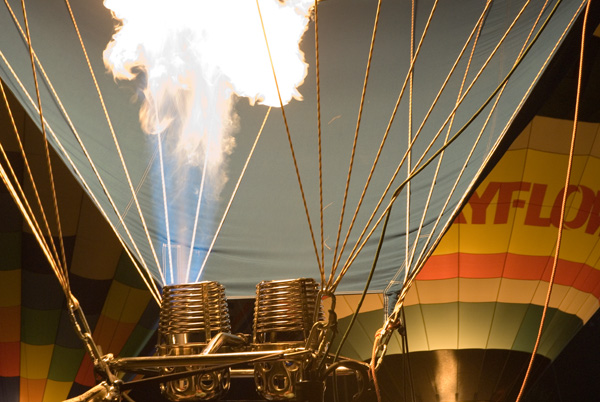 The breeze and conditions had to be just right so the 'bunny' of this Hounds and Rabbit balloon chase – a huge Energizer pink bunny– was a little late taking off, but was worth the wait. I could not believe how big that thing was. The photo shows it in relation to people and cars on the ground.
Once it was launched, then 70 balloons inflated and took off after it, in a specified order (there wasn't enough room to start all of them at once). Imagine a sky full of 70 hot air balloons. It was amazing.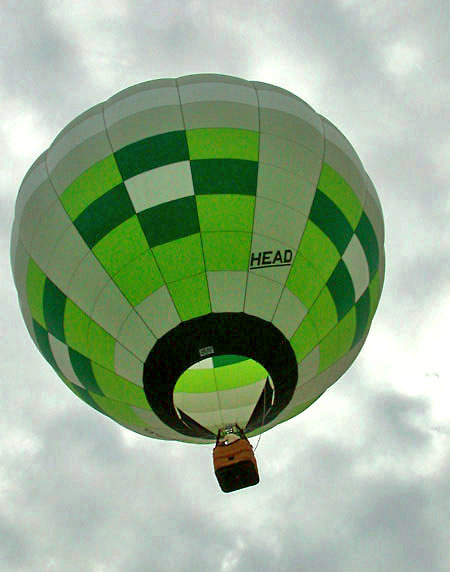 I parked quite a distance away, and the walk back to the car was a little challenging, considering that my feet hurt like the devil. But the late afternoon light was lovely and the crowd walking back to their cars was mellow, full of cute kids and sweet dogs.
A very good day.