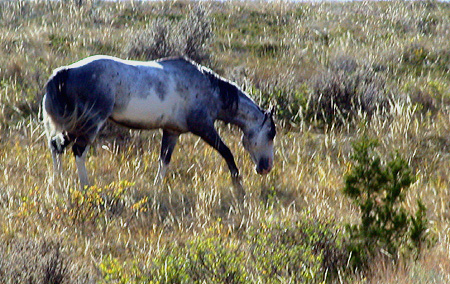 If we separate the moral argument about eating companion animals and instead focus on the safety of horse meat, the end result remains the same: starting up the horse meat industry in the United States is not a good idea. To get a good understanding why, we need to take a closer look at what's happening with the horse meat industry where the meat is currently allowed: The European Union (EU).
The EU has had procedures in place to ensure healthy horse meat for years, yet stories this year about horse meat incorporated into beef products, and horse meat testing positive for drug residue have surfaced repeatedly.
Horses in the EU are required to get a "passport" by six months of age, and all administered medications get recorded in the passport. Yet there have been a significant number of incidents where a passport for one horse is used with another, as well as incidents of fake passports.
Equine Essentials notes the issues in The Problem with Horse Passports:
The passport system has had plenty of criticism for not functioning properly, not being enforced and being subject to a lot of abuse. In February 2013 the BBC reported that 7000 unauthorised documents have been circulating in the UK since 2008. Not to mention the fake horse passports that are being made continuously. Owners report that veterinarians often don't use the passport to record care history and many opt for the old way of doing things and issue vaccination cards instead. Many competing grounds are also happy to just see the vaccination card and don't check passports.
Problems aside, the supposed benefit of the Passport system is it provides traceability of the horse, ensuring that meat from horses that have received hazardous drugs doesn't enter the food chain. There is no such system in the United States. At one time, the USDA considered implementing a system of traceability known as the National Animal ID System, or NAIS. However, because of pushback from farmers and livestock associations, the USDA dropped its plans. Instead, the USDA adopted a relatively weak rule that animals transported across border will have to be accompanied by formal identification, including a veterinarian certificate or owner statement. No passport, no electronic tracking, just paperwork.
The new rule's purpose is to track the course of a diseased horse across state borders. However, tracking a diseased horse is only one component of ensuring the safety of the meat. It's also important to know what drugs a horse has been given. As the USDA notes in its inspection procedure, horses are companion animals and are usually given medications forbidden a food animal like a cow. In particular, one drug, phenylbutazone or "bute" as it's commonly called, is frequently used with companion horses. But bute can also cause a fatal disease in humans called aplastic anaemia. The drug is so dangerous that any use in the horse makes that horse ineligible for processing as meat.
To check for drugs, the USDA implemented an inspection routine that randomly samples horses, based on the number of horses within a "lot". If the lot consists of 10 horses, the USDA inspectors will test 1 horse; between 11 and 50, 2 horses; between 51 and 100 horses, 3 horses are tested; and if the lot consists of 100 or more horses, a maximum of 4 horses are tested.
Is this random sampled testing sufficient to ensure that the horse meat is free from drug or other residue that can cause harm? Well, to answer that, we have to visit our neighbors to the north.
The Toronto Star has written a series of investigative stories about the processing of horse meat in Canadian factories. It followed a race horse named Backstreet Bully, as it left a race course only to be shot dead in a knacker's yard. The story detailed how, through a series of deceptions widely practiced in the kill horse auction community, a horse who had been administered drugs typically given to companion horses, ends up at a horse meat slaughter auction house. The story effectively demonstrates how ineffectual Canada's own "passport", the Equine Information Document, is when it comes to preventing drug tainted meat from entering the human food chain.
The federal government relies heavily on the accuracy of the passports, which have been in existence since 2010 and are the first line of defence in keeping tainted horse meat from the human food chain. The government does not require owners selling a horse for meat to provide additional medical history such as veterinary records.

Dr. Martin Appelt, the Canadian Food Inspection Agency's national veterinary program manager, acknowledged the government relies on an honour system and hopes that the documents are "a reflection of the truth."

But it's far from a foolproof system: last year, tainted horse meat from Canada, bound for Belgium, was found to contain traces of two controversial drugs, bute and clenbuterol, the latter on the list of drugs in Canada that are never to be given to animals sold for human food.

The Canadian Food Inspection Agency began testing horse meat for bute in 2002. In detecting prohibited veterinary drug residues in meat, there is an overall compliance rate of 96 to 98 per cent, according to an agency spokesperson. Testing is random though a horse or its carcass will be tested if there are red flags or concerns.
Though Canada has implemented it's own passport system, it also relies on random testing, just like the USDA. Yet horse meat tainted with dangerous drugs has still managed to slip through to the European market. We, in the US, rely only on random testing—how safe do you think the meat will be?
Of course, one can always choose not to eat horse meat. We're not going to be exposed to bute-tainted meat if we don't eat horse meat. The problem with this approach, though, is that sometimes people are eating horse meat and aren't even aware they're doing so.
This year, the EU and the UK were shaken when horse DNA was found in meat labeled as 100% beef. Food Safety News put together an infographic charting the early days of the scandal, but the problem is ongoing. Just last week, authorities noted that two people involved in the horse meat contamination were arrested in Britain.
The Horse DNA tainted beef has shown up all throughout Europe and the UK: in foods ranging from fast food burgers to the famous IKEA meat balls. Recent testing has shown that over 5% of meat labeled "beef" in Europe is contaminated with horse meat DNA. This isn't a small percentage, and demonstrates that the horse meat contamination is endemic—especially when we consider the DNA testing is more thorough in some countries, than others.
What's more critical is that testing also discovered that one half of one percent of the horse meat tested positive for bute—a far more alarming discovery. Authorities downplayed the findings, saying the percentage is trivial, but the assertion of "no worries" doesn't jibe with the laws restricting any presence of bute in the human food chain.
The EU may state that the issue is a matter of food fraud and not of food safety, but in the end, it's all about food safety. Food safety is about preventing harm to people, regardless of the impetus behind the harm: human greed or human carelessness. And, as noted in the NY Times article just linked, Europeans have only been testing for bute…there are other drugs used with horses that can also potentially cause harm if consumed by humans or other animals.
If you live in the United States, you may think this isn't a problem for any of us. After all, we don't typically eat horse meat in this country. None of the horse meat processed in the country is targeted for human consumption within the country. The meat is intended for human consumption in other countries, or supposedly for animals in zoos. Why should we worry, then?
Leaving aside the fact that we should question our indifference about inflicting potentially dangerous meat on the rest of the world, not to mention tigers, lions, and bears in zoos, we are at risk for our own version of the European horse meat scandal by starting up horse meat processing in this country.
Horse meat is generally less expensive than beef, especially horse meat from older horses or scrawny wild mustangs. It's going to be tempting to shove a little horse meat into the beefwhen creating cheap frozen foods, or foods served at inexpensive restaurants. In addition, horse meat is leaner than beef, which has an appeal for a different reason. Because of our insistence of shoving corn down cows' throats, we have almighty fatty beef in the US. Yet weight conscious people want low fat meats. Access to lean meat to mix with our fatter beef in order to control fat content is an attractive proposition. Right now, we're actually importing lean beef trim from countries like New Zealand, just to get that "98% lean" label in the supermarket. Why not toss in a little leaner horse meat rather than import lean meat scraps?
We wouldn't need to be concerned about our own version of "food fraud" if we did DNA testing on our meat in order to ensure that "beef" is "beef". Canada did this recently, to assure its citizens that Canadian beef is real beef (they hope, because just like testing for drugs in horse meat, the horse DNA testing samples were limited). The problem is, the US doesn't do any DNA testing of our locally derived meat. Some folks did for our seafood, and found a whole lot of "mislabeling". We do species testing for imported meat, but we don't do any DNA testing of our locally derived meat.
Well, isn't that just peachy?
Let's be blunt, we're right there with the folks in Canada and the EU: food safety is based on the honor system more often than not. Most of the time, it works. Sometimes, though, the honor system doesn't work as well as we'd like. Once we start processing horse meat in the US, the only way we can guarantee we don't get any horse meat in our hamburgers is not to eat hamburgers.
Or chicken.
I'd stay away from goat, too.