Here it is, the week before Labor Day weekend and I only now find out that the Missouri Botanical Gardens have been open to 8pm every Wednesday between Memorial Day and Labor Day. At least last night I was able to go and attempt a little dusk photography–helped along by finding the part that attaches from my camera to the tripod.
The Gardens are undergoing its sprucing up in time for the big festivities: the Japanese Festival this weekend. I'm not sure if the lights outlining the pools have always been there, or were added specifically for this event, but they added a lovely touch to the waterlilies and dragonflies.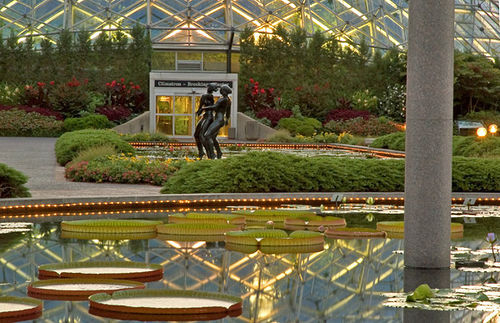 I don't know if I'll go to the Japanese festival. It has all my favorites: the Candy Man, the Taiko Drums, Bon Odori, and this year, Sumo wrestlers. But I have work to do, and I'm still feeling peaky. However, the food is fantastic, and the presentations wonderous. Perhaps if I work especially hard tomorrow.
I have come to really appreciate the Gardens this year, particularly since because of finances and problems with heat and bugs I haven't been able to go out to the trails as much this summer. No matter how busy it is, I can always find a quiet spot to sit, just sit, and I have been almost desperate for such lately. Now, more than ever, we should grab these moments when we can, as often as we can.