Recovered from the Wayback Machine.
Today's anti-war rally held at the U City Loop in St. Louis unfortunately lived down to my expectations. The demonstration was poorly organized, and instead of focusing on a possible war with Iraq, those participating spoke out against everything from the treatment of Native Americans in this country, slavery, to our friendship with China and it's policy with Tibet. Two of the speakers didn't even mention Iraq if I remember correctly.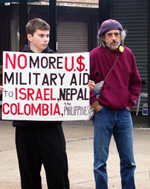 I was especially put off by one speaker who belongs to an organization that believes in using violence to meet the group's objectives, as long the violence "…didn't exceed the violence committed by the US". What was the group's objectives? Much of the talk had to do with neo-liberalism and overcoming imperialism, and he mentioned a whole list of countries and "freedom fighters", most of whom I've never heard of. He also spent a considerable amount of time talking about how to get on the group's listserver, but to use caution, they're being watched, and to connect from the library so the connection couldn't be traced (but you have to give your email address — anyone else see a disconnect here?). No web sites with this group — think I should send them an email, tell them about Blogger?
(I also found his interpretation of why the Vietnam war ended to be interesting. It was because the true freedom loving Vietnamese drove the evil transgressing US soldiers from their land.)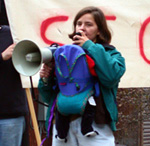 The speakers that saved the day came at the end. In particular, a woman with a baby brought up what I considered to be valid points. That invading Iraq will most likely increase terrorism rather than decrease it. That we can't afford this fight. That we haven't been truly successful in Afghanistan, and will be less so in Iraq. That we have serious problems at home we should be focusing on. She was followed by another woman calling herself Queen Zinia, who talked about her grandkids and her worries for their future if we continue a campaign of aggression. Queen Zinia equated the US actions with the actions of a school yard bully, and that someday, even the smallest, weakest country is going to get tired of being pushed around, and will fight back.
Following the two women (who, in my opinion, stole the show) was a quiet, older black man who asked the audience if they remembered Vietnam. There were only a few of us who could nod. He then talked about how he has fought against war since that time, and he'll continue to fight against wars we can't hope to win. He talked about how he's tired of sending our people to other countries to die, and for no good reason. His quiet dignity spoke louder than all of the slogan filled hyperbole of most of the other speakers.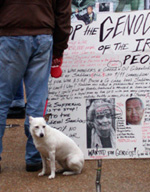 (I wonder what he thought of the kid that advocated violence and celebrated all of those soldiers getting killed in Vietnam?)
The Green Party candidate, Daniel Romano was there, and talked about the debate last week, which he seemed to think he won. He was definitely more in place and outspoken in this venue, but as with so many of the other speakers, his focus was all over the board — anti-imperialism, bombs in Afghanistan, divesture in Israel, down with all forms of capitalism, and so on. I am extremely curious, now, as to what other Green Party candidates are like.
What I particularly disliked about the rally is that I felt most of the speakers could really care less about the Iraqi people. Or the American people for that matter. Each was caught up in a cause. And while I believe that most people who attended the rally did so because they are genuinely concerned about the war, too many of the organizers had too many other agendas to push.
The issue of a war with Iraq was diffused and confused and ultimately lost.
I ended up coming away, cold and saddened. I expected at the very least a group hug to warm me, and all I got was hot air instead.