The next month, from the middle of September until the middle of October, is the most beautiful time of the year in Missouri. The weather has cooled and the humidity dropped, and a slight breeze blows most days to keep the sky clean, and clear. The trees are in their richest green, their end of summer finery; next week they'll become tipped with golds and oranges and scarlet as Fall begins.
Today there was a huge hot air balloon race at Forest Park, which I had planned on attending to continue my quest to find perfect photos for a perfect portfolio. However, this morning I looked out my window at a perfect day and had no interest in fighting a crowd of tens of thousands for glimpses of bright material reflected in the sun. I headed to the Shaw Arboretum, instead, bad girl that I am.
At the lake where I normally park, there were two wedding parties wondering about – fluffs of white dress and colorful satin and chiffon, with men in black tuxes or well ironed khaki. One group was in the midst of a 3:00 wedding, and the other group in a pre-wedding photo shoot. Both ceremonies were unpretentious, with guests sitting in plain folding white chairs and a simple stand acting as alter. No need for ribbons and bows and hot house flowers when you stand under a canopy of Cypress, backed by sapphire blue waters. For a magical touch, I could see several butterflies fluttering about during the earlier wedding. No amount of prestige, of cut stone and stained glass, can beat butterflies circling about as you exchange vows with someone you love.
I hadn't been out to Shaw for sometime and was amazed at the height of the grasses and flowers in the wild flower garden. The air was filled with butterflies and bees and other insects and as I walked between two fields filled with flowers I could hear a constant hum and buzz, as if I were a late arrival at church and the congregation made note of my tardiness.
I had both my digital and my film camera and I had forgotten how satisfying is the feel my old Nikon, the heaviness of it and its fit within my hand, as well as the quality of the lens. Since the butterflies were kind enough to stop and pose strategically, the little vixens, I spent some time taking photos of them with my film camera, and then switching to digital for one or two for the weblog.
The late sun is that unique green-gold of this area, and it highlighted the purple and yellow flowers, green grasses, and blue skies – with bright orange butterflies, Monarch and otherwise. There was considerable activity around one bunch of yellow flowers, and as I focused in with my telephoto lens, I could see a swarm of honey bees vying with the butterflies for nectar. Normally I'm cautious around bees, but today I knew without hesitation that I was at no risk for being stung.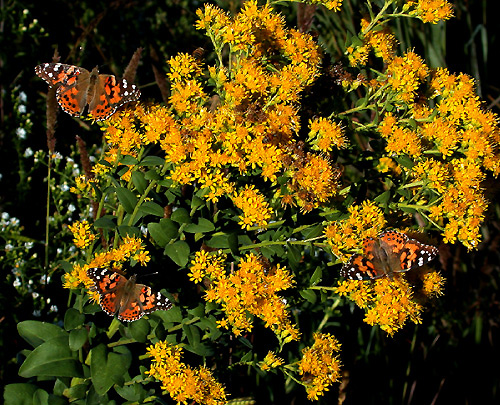 Later by the lake I met up with an older man and several young girls, all with butterfly nets. Chatting with the friendly bunch, I found that they were part of Monarch Watch, a group that tags Monarch butterflies in order to track the creatures migratory patterns.
The young ladies were wonderfully gentle with the creatures and when I asked questions they gathered around, smiles as warm as the sun, as each tried to answer my questions in a rush. They let me hold one of the butterflies, and showed me the tiny tags, and between them and their escort, the enthusiast father of one of the budding scientists, I learned all about the program, as well as Monarchs. Five generations of Monarchs have been tracked and tagged from this area to Mexico I was proudly told.
As I reluctantly moved on to the lake to take some final photos, I could hear the group finishing up their work; laughing, gentle boasts of number of butterflies tagged, excitement in their voices as they wondered if any of theirs will be found in the select stand of trees on that small bit of land in Mexico that is the ultimate destination of the colorful gossamer wings.