Archived with comments at the Wayback Machine
I received a news alert from CNN, only to hear that communication with the Shuttle Columbia has been lost.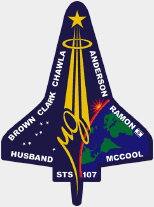 There's no other official news other than this, but it sounds like it did explode on entry. It breaks my heart because if there's one thing this country does well, it is our exploration of space. It is the very best of us.
I tried to watch the news, but would turn the channel every time someone would start talking about terrorism. Can we for once not taint everything around us with our unreasoned and unthinking and unfounded paranoia, and just feel sorrow at the loss?
My deepest sympathies to the family and friends of the astronauts.