Yesterday was sunny and cold and I specifically headed out to a place that suited both conditions: The Castor Shut-Ins at the Amidon Conservation area.
In a book I read, the author mentioned how during cold weather the water around the rocks would freeze into crystalline formations, adding to the beauty of the place. It also mentioned about the road leading in being unpaved, so I know I needed a clear road with no snow.
The road wasn't bad, mainly a gravel road with some steep hills. I wasn't surprised to see that I was the only one traveling it, being a weekday and very chilly. When I got to the trail head, I couldn't hear any water, which I thought odd considering the shut-ins supposedly weren't far from the trail head. The trail itself was pleasant, a gentle walk through hills full of trees that have lost their leaves.
After about a quarter mile, though, as I turned around a corner, I could glimpse a patch of pink and could hear the water and started to hurry forward, only to step out into a scene that left me breathless.
What makes the Castor shut-ins so unique is that they're the only pink granite shut-ins, not only in the state but I believe the world. You can imagine what it's like, then, to walk through rusty reds and pale grays of Missouri winter forest only to come out on a scene of bright pink and rose boulders, crisscrossed with brilliant aqua blue water, spotted with feathery strands of pale green lichen, and white glittery ice — all framed by the rusts of the summer trees, with here and there, a lone evergreen.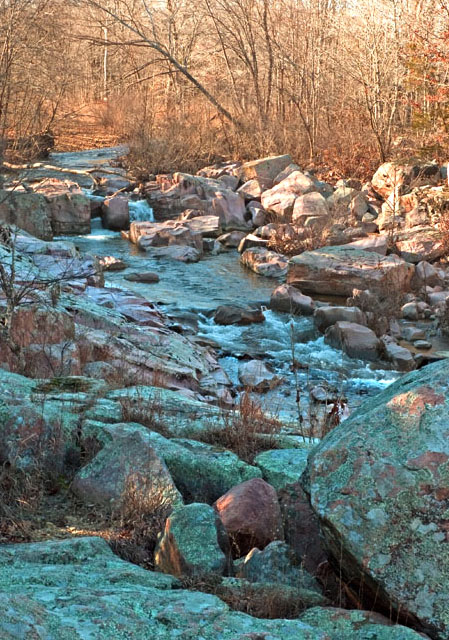 "Oh my", I said to myself, and repeated it over and over again as I dashed about the rocks, overwhelmed into incoherance.
It was like walking in a jewelers window heaped high with pink saphire necklaces, in among white diamond earrings and aquamarine broaches, and turquoise bracelets–with here and there a hint of beaten gold and copper. And I had it all to myself.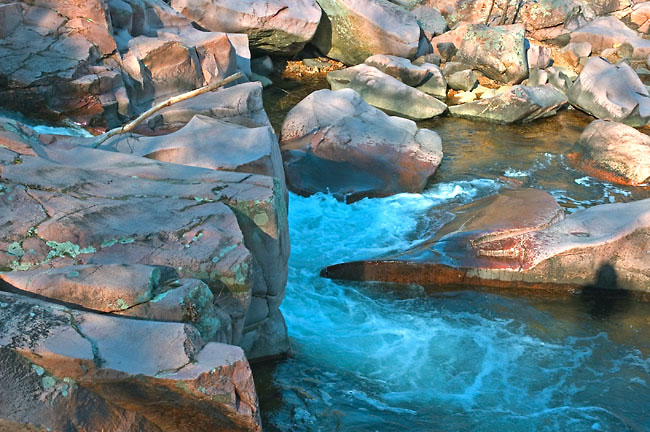 Unfortunately, the sun was behind the hill, casting dark shadows across the stream and the rocks and the ice, but i managed to grab some photos (though they do not do the scene credit and I will return to do the job properly).
The trail to and from the shut-ins is a one mile loop, made into two miles with all the explorations. I had my trusty walking stick, and being aware of the rivlets of ice that streamed across the rocks, I bounded about, around and on top of them, taking photos and sometimes stopping, just to experience the beauty. Of course, 'bounding' isn't necessary the proper term, because I am hesitant at stepping over boulders, especially near sheer drops into cold water. Still, I was pleased that I didn't back off from any of the paths I wanted to take. The beauty overcame this fear of falling I have seem to have developed during the summer–enough to get me out on the rocks, albeit very slowly at times.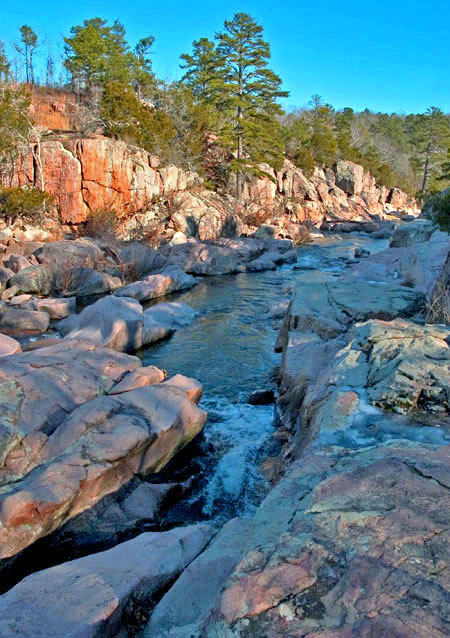 But who would want to move about this place quickly? Who could possibly want to look for a few minutes and then want to move on without a backward glance or some hesitation? Do you touch velvet with a click flick of a finger; or do you run your hand slowly and softly along its nap? This was a velvet scene.
("Oh this is a beautiful place. Look. Look. Photos. I must leave it now, quickly, and go home and weblog about it!")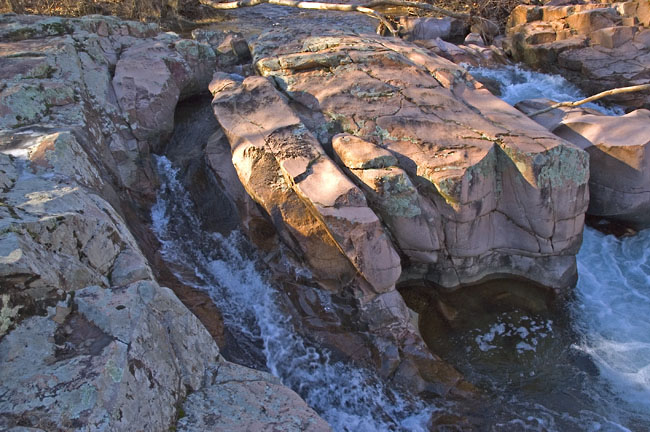 The trail away from the Shut-Ins was equally lovely, though I'm glad there were markers or I would have lost it among the rocks and the dead leaves. It was invigorating and just challenging enough to be fun, without being too strenuous. Best of all, even though I strained at times, I could hear no evidence of humanity — just the breeze through the trees and every once in a while, the call of a bird. Cardinals and bluejays; hawk and finch.
I had to stop along the way, not to catch my breath but to grab at my exhultation, which threatened to run away with me at times. I wanted to trip down the path, but with the half buried rocks, knew that was folly. Still when I got back to the parking lot after an afternoon spent in among the beauty of this short little hike, I turned my CD player on and put in the newest CD I burned and I danced about the parking lot, in joy at what was an almost perfect experience of sight and sound, touch and taste. And feel.
The birds must have thought me mad.