I left San Diego at a reasonable time Christmas day and ran into the storm in the hills that ended up causing the southern California mud slides. Along the way I could see the extensive fire damage, so am not surprised at the slides. Visibility was extremely poor, but aside from the heart stopping moment rounding a corner and coming up on a car stopped dead in the freeway lane, no problems.
In fact weather Thursday and Friday was beautiful, as I made my way first to Tucson, and then the long, long trip to San Antonio.
I put my faith in digital magic on this trip, using Mapquest to get directions to all the places to stay, and using Hotwire to find the places. Thursday's was a lovely one bedroom suite in Tucson, with a courtyard filled with palm and orange trees. Since I put a moratorium on tree photos for the nonce, you will not be treated with a photo of the palms, but I will share a photo of the view from my room's balcony.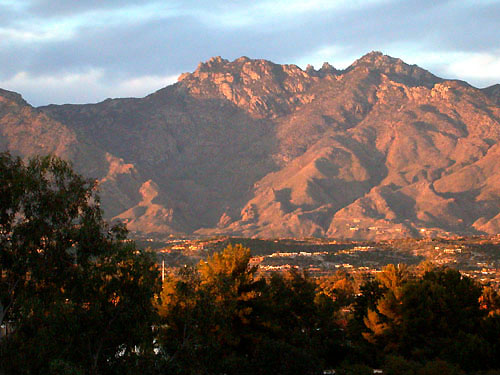 Friday, I read the Mapquest directions too literally and ended up somewhere past San Antonio. Thanks to two incredibly kind people I met up with at a small store I found, I was able to make my way back to the hotel with no problems, and had a lovely chat in the bargain. Social software is good, but only if there's kind people to help you when you fall through the gaps between the bytes.
I am staying a couple of days at this incredibly funky place right next to Riverwalk, Tower of the Americas, and the Alamo: the Fairmont. It's a 37 room historic hotel that's been modernized, sort of. I have a one bedroom suite on the first floor facing on the ancient courtyard, with lovely, huge windows covered with antique wooden blinds in the living room and bedroom. Part of the furniture is modern, including one of those famous office chairs that cost a fortune, but the rest — mainly tables and side chairs — is old. Ceilings are 16 feet tall with wooden trim around everything; there's a slightly musty smell in living room, a large marble bathroom with a scale, of all things, big bedroom with very comfy bed you can sink into, and I'm not sure how the heat works — but there's a broadband connection skillfully threaded through the base of the antique lamp table. This is in addition to the wireless internet access in all of the common areas, including the little French courtyard.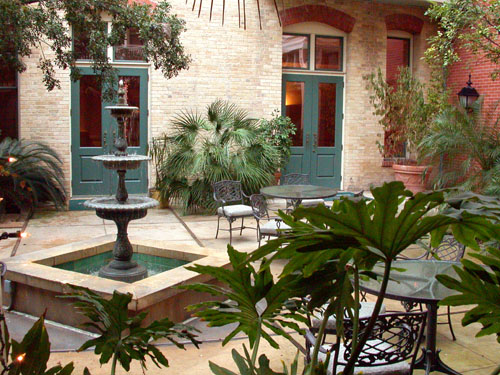 It's the combination of old and new that adds to the funk of the building. Not only that, but the place has a history. It was built in 1906 to be a railroad hotel. In 1985 Wyndham had the entire structure jacked up on wheels and moved several blocks over a period of 6 days, giving the hotel the Guinness Record for largest structure ever moved — all 3.2 million pounds of it.
The staff, like so many other people I'm finding in San Antonio are genuinely friendly and welcoming. I think I love it — the hotel and the city.
(The hotel is also extremely romantic, and my suite is much too large for one — something to keep in mind if you're thinking of treating your significant other to a weekend in San Antonio; just make sure you can live with that combination of old and new — it is very different.)
This trip along I8 and I10 (or HI10 as they call it here in SA), was my Christmas gift to myself. I10 in particular is called the 'lost interstate' because it's very isolated. What a joy to get away from the traffic and stress in California and to spend two days in California, Arizona, New Mexico, and Texas desert and praire. Contrary to popular opinion, the desert country of these states is not plain and dull, but is, instead, beautiful in its austerity.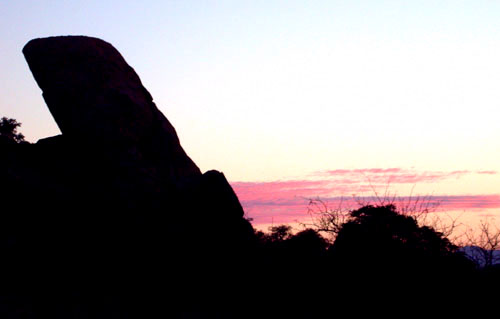 However, cutting the trip one day short and taking a direct route home to St. Louis tomorrow, rather than the roundabout ride through Baton Rouge. I've driven over 4000 miles in the last week, and I'm ready for home. For today, it's the Riverwalk and the Alamo.