Recovered from the Wayback Machine.
Jonathon Delacour writes about sentiment and freshman photographers:
When I taught photography, the photographs taken by first year students were—with very few exceptions—sentimental clichés.
As an attempt to counter this, Jonathon and the other photography department instructors posted a notice that banned certain subjects in photographs the students submitted, such as closeups of bark on tree trunks, toddlers with ice cream smeared on their faces, and nudes. Denied their usual subjects, the students were then forced to use their own imagination.
Sentimentality is more than dusty red velvet boxes and a baby's lock of hair pressed between the pages of a book. At its worst, it is both a fake and a fraud, an attempt to package a thought, memory, or mood into something palatable to the general populace.
Ansel Adams was a master of the photographic technique, and generally held to be one of the best "nature" photographers of all time. Yet, lately, I'm beginning to understand Jonathon's intense dislike of Adams' work. When I view Adam's photograph of Canyon de Chelly, I see technique and perspective, but the photo is flat, emotionless, safely consumable. It completely lacks respect for the spirituality of the location.
It is a photograph you can hang at McDonald's.
Yet when Nat King Cole sings "I love you for sentimental reasons", he isn't singing about clichés and pop art. The song reflects the simple, honest love of one person for another, and the hope of shared memories in the future. This is the sentimentality that Loren Webster writes about:
Personally, I worry about friends who aren't sentimental about their childhood, their children's childhood, or their grandchildren. You're supposed to be sentimental about these things, for God's sake. Does anyone really think you're supposed to be totally objective about your children? And grandchildren? You'd have to be a real Scrooge not to occasionally indulge the temptation to spoil grandchildren, wouldn't you?
The tendency in art in the past was to paint the family, the ultimate symbol of life, in an ideal light: (One) Mother always smiling, (One) Father always strong, and the children always bright and sunny. A hopefully impossible vision for any family to meet. Today's artist, in a burst of artistic integrity and honesty rejects this bland rosiness, and paints the family in the palette's darkest shades — Father missing, Mother disturbed, Mother's boyfriend abusive, drunk, and unemployed. And don't even ask about the kids.
Yet, the pictures we paint of the darkness of family life are just as much a lie, a characterization as the pictures we paint of the positive — it is the worst form of sentimentality, that which is fraudulent and false and focused on making the work consumable, at least by today's standards.
The reality is that the best of families have a little horror in them, and the worst have a little hope. Scratch life and you'll find this everywhere.
I thought about this as I walked along a trail in Powder Valley today, camera in hand. I thought about how difficult it was for me to pick a good shot because it seemed as if I was surrounded by great shots. As a little experiment, I deliberately looked for bad shots, and when I found a good candidate, I would take a photograph of it, and of the scene directly opposite. What an eye opening and exciting experience this was — and disruptive.
What I want from my pictures, and my writing, is to somehow pull in my audience while simultaneously pushing them away. Sentimental? Yes. Non-sentimental? Yes. Yes. Yes. Yes.
Today's photographs: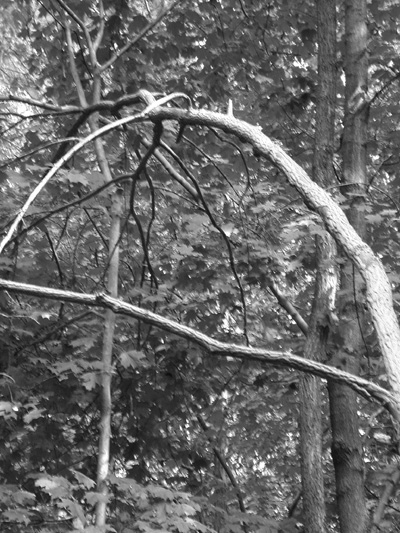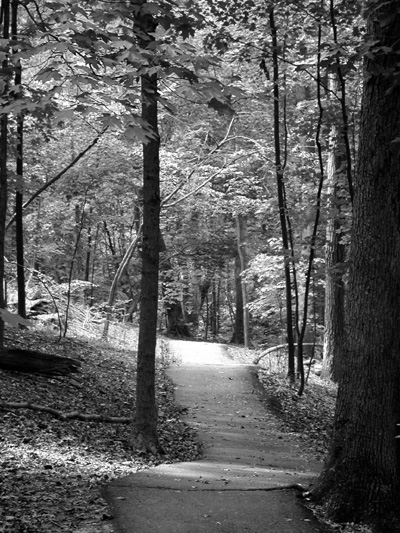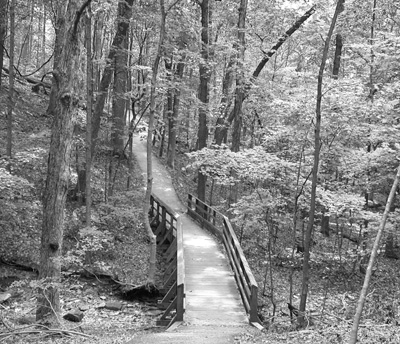 And sorry, Jonathon, but I couldn't pass up this bark closeup. I think you'll find, though, that it is anything but ordinary.