Recovered from the Wayback Machine.
The weather Saturday was lovely with cooler temperatures, and a lot less humidity. I'd been cooped up all week working on this and that and was in a mood for a long drive. As I hadn't been to the Johnson Shut-Ins since early Spring, I wanted to see how they looked in the Summer and headed in that direction.
I can see why the Shut-Ins are so popular – they are extraordinary in all seasons. However, it's in the summer that their true beauty reaches its peak, with the dark green of the trees, and the rust and pale blue of the surrounding rocks, offsetting the turquoise/aqua of the water. There are little pools in and among the rocks you can wade in, or go further downstream if you prefer sandier conditions. Though my camera has been problematical lately, I still managed to grab some fairly decent photos.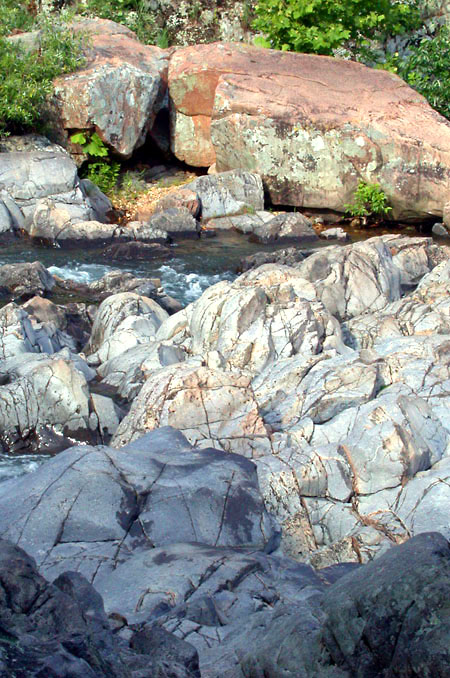 Lots of people at the park, but it's large enough so you never feel crowded. You can swim at the Shut-Ins, but walking around isn't easy – the rocks are very uneven and slippery.
There's a boardwalk that surrounds the Shut-Ins and then steps that take you to the rocks themselves. Last time out I managed to walk around the rocks; however, this time I had to refrain because my ankle is still swollen and bruised from the last major fall, and further irritated by some injudicious hiking. Recently, I've had to use a hiking stick even on flatter grounds.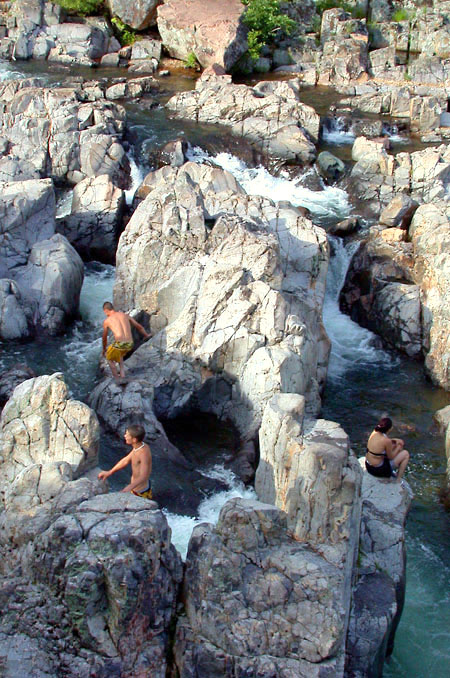 But I was wistful, as I stood at the bottom of the steps and looked out at all the people having fun and exploring. I wanted nothing more than to be in cut-offs and swimsuit and to jump into the water and feel the aeration of the falls around me. It must be like swimming in champagne.
A young man, probably in his early 20's, saw me at the bottom of the steps leaning on my walking stick, looking longingly at the others playing. He started past and then stopped and turned around, and asked if I needed help to get around the rocks. I was both pleased by such generosity and chagrined that he would offer to help. After all, I'm only…
..well, only close to 50, walking with a limp, and in obvious need of my walking stick. Or helping arm.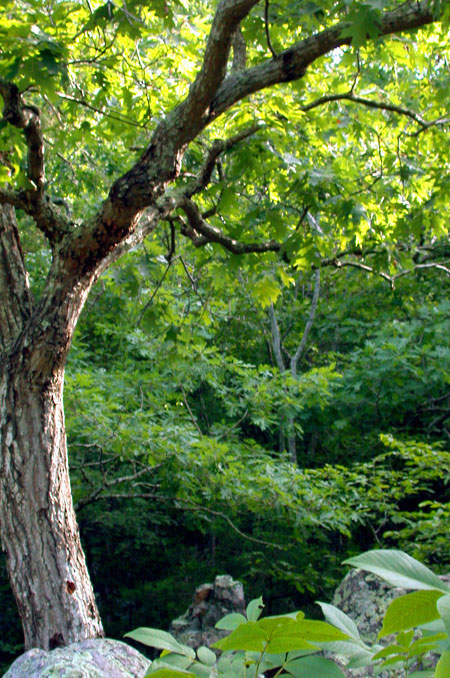 I did thank him with the warmest smile I could pull up, as I declined his help, telling him that the rocks and my ankle would not be a good mix. I refrained from telling him that what he sees isn't what I am.
What I feel, what I am, is that young girl sitting on the rocks by herself, looking at the water flowing past, playing with her hair and just dreaming of whatever. As long as no mirrors or helpful young men are about, that's what I am.