The Missouri summer has moved in, with weather in the 80's, humid, and rich. I've moved my walks to the morning, when it's still cool. Come July and August, even mornings won't help and that's when you take the deep, canyon and river hikes.
I went to the zoo to check out the new Fragile Forest exhibit and the baby penguin. Unlike my last trip in the winter, today the place was quite busy, and all the fountains and falls were turned on–I hadn't realized what a beautiful zoo the St. Louis zoo is. It's not big, but it is nicely designed, and wonderfully intimate. I guess that Parent Magazine ran a survey and the St. Louis zoo was named the number one zoo for kids in the country–primarily because the various critters are accessible.
The penguin baby was hidden by adults at the Penguin and Puffin exhibit, but it was nice to watch the antics of the birds and to cool off in the 45 degree temperature controlled environment. Unfortunately, the apes were nowhere to be seen at the Fragile Forest, either. It is still too new for the animals, and they spend a lot of time in their old habitat.
However, other animals were out and about and nicely active; including the prairie dog village, which had several babies of their own. I managed to capture a picture of one sweet faced, tiny baby.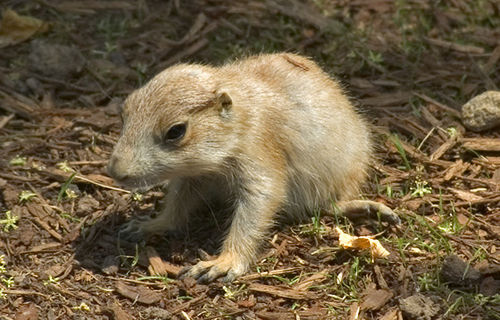 I really enjoyed the zoo visit today–even taking time to chat with folks, when normally I'm rather shy around strangers. Color, lots of color, and I've been of a mood for color. And some excellent fresh cooked, spiced potato chips that I enjoyed by the lake, watching the flamingos.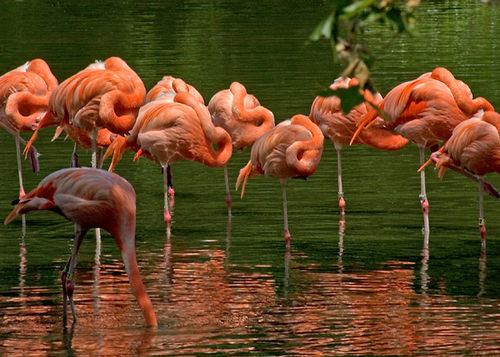 The colorful birds and the antics of the prairie dog pups cheered me considerably. I was in a bit of a dark mood the last few days, which is one reason I wanted to take a break from the computer today. However, as I wrote in comments recently, …a person who is bright and cheerful all the time is on drugs, so at least we know I'm clean and sober.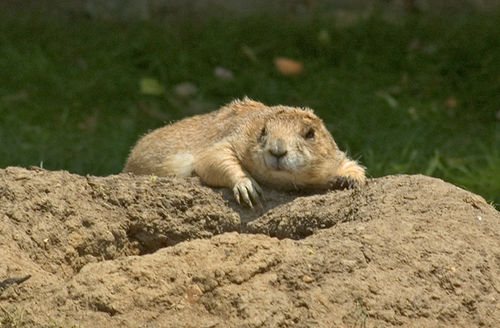 After today's flamingos, more color–the fireflies came out tonight. I wish there was a way I capture them on film, but it wouldn't work. The magic of fireflies is that they glow quickly and just out of the corner of your eye — blinking out when you turn to look. If we captured them on film, the magic would be lost.