Today I was on top of the world..well, at least the top of the world here in Missouri. I finally visited Taum Sauk, the tallest point in this state. I also decided to walk the three mile Mina Sauk trail and see the Falls at the end point — the longest falls in Missouri, at over 100 feet. I had read that the trail was rugged, but thought I could manage it.
This was the toughest trail I've climbed in Missouri, and probably about the toughest I would climb, anywhere. The only saving factors were that it was a relatively short trail — three miles– and the weather was very, very good for hiking. But it was hard walking, too hard for me. Add to the difficulty of the trail was the fact that much of it had water over it, making footing precarious at best. I am bruised head to toe.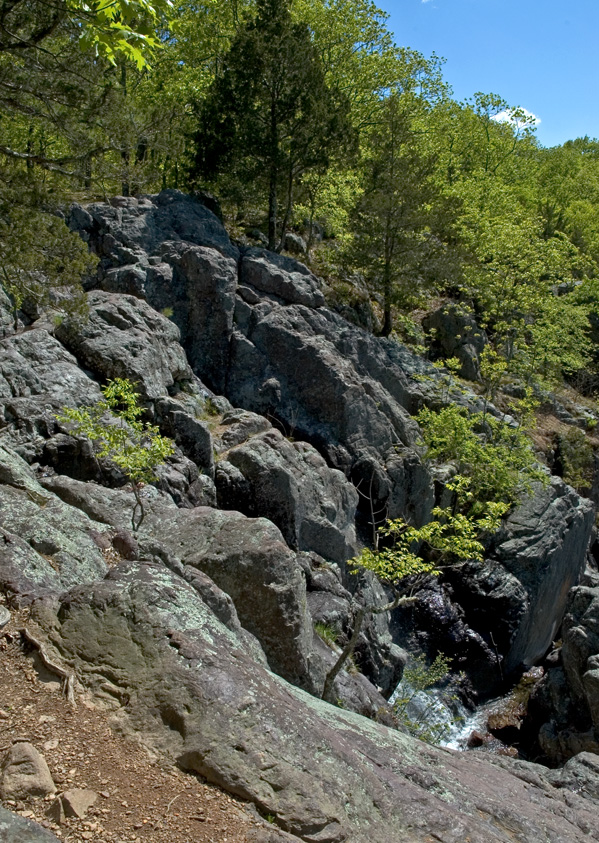 To add to the challenge I took my backpack filled with camera gear. The irony is that by the time I got to the Falls, all I wanted to do was go home so I took a few shots at the top and didn't even try to make it to the bottom. Not hiking by myself, and not hiking when I'm already tired.
I did make some friends on the way — and it was a lovely day, with a lovely view. More photos out at my Flickr account, and more writing tomorrow when I stop feeling like I'm going to get sick.
I also managed to make it to the 'high spot', to look out over rolling hills of green and to make a shout of triumph:
Yeah