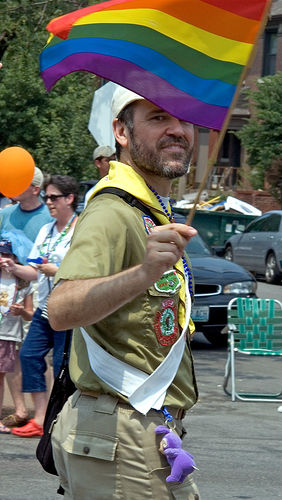 Today's outing to the St. Louis PrideFest 2005 parade did not begin auspiciously–we were hit from behind by a lady driving an SUV. Luckily my roommate, who was giving me a lift, drives a larger van and we could drive away after the insurance cards were exchanged.
(I hate the sensations of a car wreck: the screeching tires, the metallic thud, and the fast jerk as your car is pushed forward. I dislike more my roommate's car being damaged because he was giving me a ride.)
Anyway, he dropped me off at the parade route, and I found a spot in front of a light pole in a little bit of shade, right next to a large group of gay women. Ironically, it was the group the lady who hit us was joining. That poor woman became the butt of several of her friend's jokes, and one bad pun from me ("Nice running into you again.")
They were a marvelous group to stand with : every time any car, float, or group went by they would cheer and cheer. Their exuberance added much to the event.
The Parade started right on time, and they kept the pace up, probably because they wanted to finish quickly. It was in the upper 90's and humid and the air quality was horrid. The conditions were more than compensated, though, by the parade participants. They were a wonderful group, and more than once, I found my eyes stinging a bit from the gentle pride, and absolute joy you could see on their faces.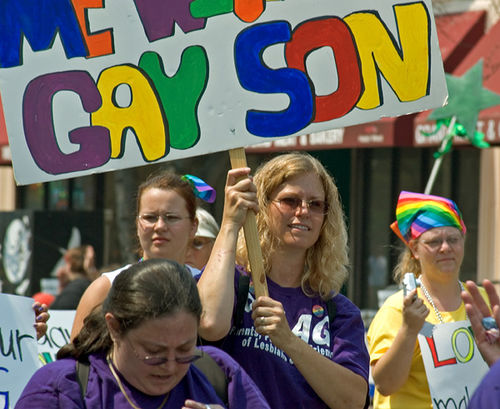 There were participants from several companies, including several real estate firms. I gather that gay money, at least, is welcome in the housing market. Even in Missouri. Politically, the mayor was there, as was the fire chief and a couple of aldermen, and Ross Carnahan, a Democrat. There was even a small contingent from the Log Cabin Republicans, though they marched at quite a distance from the one somber entry, aptly named "Fear".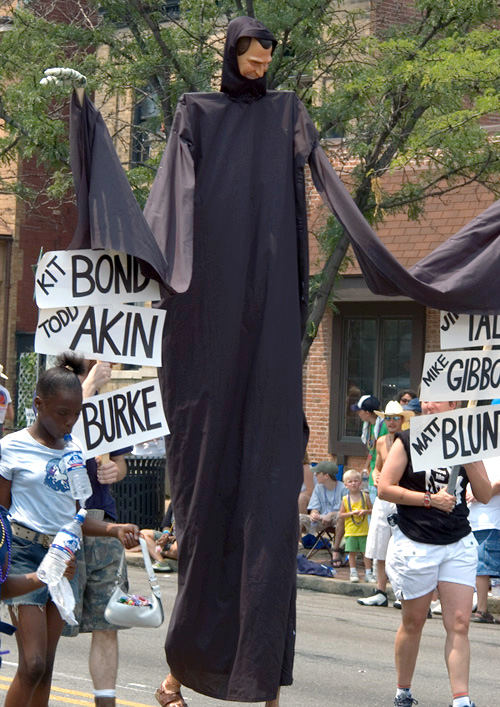 There were some fun and flamboyant participants, but most of the marchers wore simple cotton shirts in various colors, with the word "Pride" over the chest. Even though they live right in the middle of that part of the country which condemns everything about them, they can still smile at, and throw pretty beads to, a crowd that has consistently voted down many of their rights. I think next year the St. Louis Pridefest organizers should consider adding the words "Courage" and "Determination" to the outfits.