Recovered from the Wayback Machine.
Since Apple released the new iTunes, movie downloads, games, and television show resolution changes, I've been testing them all out on my Windows PC.
Originally I had my main iTunes installation and music on my Mac; it has now been converted to purely photography and development, which means I needed to move the installation. However, my iPod had been formatted to Mac, which was unusable on the PC. Luckily, the new iTunes interface provides a Restore option that restores the iPod to factory settings–including the FAT32 operating system. After reformatting, I then uploaded all my music back to the iPod in preparation to move to the PC using the new transform process.
Unfortunately, transforming only works with Apple purchased media. Luckily, I have the Apple folders backed up on my portable storage device and it was simple to add the music using iTunes Add Folder import option.
Once moved, I downloaded a couple of TV shows (Eureka) and a move: Under the Tuscan Sun. I also downloaded two games: Bejeweled and Majong.
The games are amazingly well done, considering that the only user interface you have with an iPod is the touch wheel. I wondered how the designers could get the Mahjong tiles to show up on such a small screen, but the entire game is beautifully crafted, and the tile designs sharply distinctive.
(Rich colors, clever use of feedback, lovely background.)
For the TV shows and the movie I used the iTunes player and projected the shows on my new 27 inch HD widescreen TV. The extra resolution of the downloads is noticeable. They're not as sharply detailed as a DVD would be through my upconverter DVD player through HDMI connector to the TV, but much more rewarding than watching the shows on my old television. Especially the color: I don't know how these were digitalized, but I've never seen richer colors. Even the indigo blue color, impossible to pick up on a regular television, came through with flying colors. The same for the movie, though it seemed crisper and better viewing than the TV shows.
Unless you sit a few feet from the TV screen, the viewing experience is very satisfying. The iTunes player also provides chapter selection, so you can go to a specific scene in the movie just like with a DVD.
I had my iTunes sound turned to the max (one bug was having this set lower) and I controlled the sound through my Logitech speakers. With their associated base unit, I had a surprisingly good media experience from a file that was originally meant to be played on an itty bitty iPod screen.
People have had problems and iTunes 7.0 has been touted as a 'lemon'. However, I've tried iTunes on three machines and have had nothing more than minor glitches. I noticed a few quirks with the download, and having to re-authorize my system to play the games. I could have wished that Apple provided a way to upgrade already pre-downloaded television episodes to the new advanced resolution, as well as provide a way to backup all files from iPod to computer, but, I like the new interface. I like being able to 'flip' through albums (and have been inspired to create something based on this, using PHP and Ajax), and the cleaner, simpler interface.
As for the movies and not being able to burn a DVD, I must confess this is not a problem for me. I can watch these movies and TV shows on all my computers and my television. The quality is very good, and though the price isn't as cheap as I'd like, it is cheaper than Amazon. More importantly, I don't need plastic, and would prefer that we get to a point where media is not burned on plastic. (Plastic is not eco-friendly.)
When I hear people concerned about not being able to burn a DVD, and not being able to 'loan' DVDs to friends and so on, I have to wonder how much of an issue this is. I, personally, would never borrow a friend's DVD (I'd be too worried about damaging it). As soon as I buy a DVD, I rip it to have on my machine or in secondary strorage, though I've not been able to rip any movie to match the quality of Apple's digitalization. (How did they get that vivid indigo blue?)
Another issue is DRM. If we go Apple, we're going DRM, but if we go Zune, we're going a different DRM (same for Guba, for Amazon, and so on). Unlike music, I don't think that we'll ever be able to burn DVDs from a download service. Either we continue buying movies-on-plastic, or we go with the internet/digital approach that works for us.
I'll probably pass on iTV, as I have a decent connection between my computer and my TV–in fact, I have an entire media corner, and feel just like the hip kids (so cool–kiss my toes). I do like the wireless connectivity of iTV, and being able to use an HDMI or composite video interface between computer and TV, so I'm keeping my options open.
If Apple hasn't given me the ability to burn DVDs to plastic, it did give me something else: freedom from cable. I can now download my favorite television shows from iTunes, watch them whenever I want, and joyfully cancel service from a company who thinks they have me 'locked' in, and has been treating me and all their customers with extreme indifference. There's more than one form of lock-in: right now, I'll pick Apple's over Charter's.
I'm not that interested in the iPod announcements, other than it is good to see price drop and storage increase. I'm happy with my 30GB and still have room, even with the games. I think we should start a pool to see whose iPod Shuffle goes through the spin cycle first. The brushed aluminum for the Nanos is a good idea, but I bet you can still easily scratch the view screen.
Microsoft also just released it's new player: Zune. Or is that released a press release talking about its new player and service?
Interesting use of colors. I like what one commenter said:
And did market research tell MS that people were CRAVING a brown DAP? "I Love the iPod, but I wish it was colored like a turd!"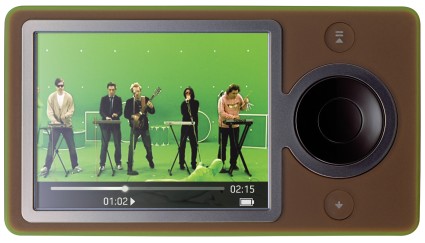 Did I read the rumors correctly? Will you be able to run Apple media files on Zune? If so, that's one less nail in the lock-in door. If not, hopefully over time we'll not have such proprietary formats. I still wouldn't buy a Zune: the larger video screen of Zune doesn't do that much for me. I don't watch movies on my iPod, and think the new game option is a better time killer.
(Too much time being killed, must behave now.)
I'm intrigued by the subscription service of Zune, and wonder how many studios MS has signed to provide music. I can't imagine many of the big labels being happy about a subscription service. It's a good option though and will be curious to see how this works.
Oh, and I'll pass on the Wifi. Stream a song to your friend (who also has to have a Zune) just so they can listen to it three times before being told to buy it? This is a joke, right?
The concept of customer cloning is representative of who Microsoft sees as its audience: Zune is being targeted so aggressively at the under 30's (and the über chic) that I feel Microsoft doesn't really want me as a customer; sort of like me buying one would be, "There goes the neighborhood." I already experienced customer disdain from Charter, I'll pass on it from Little Blue.
So far this week:
Amazon – A big 0 Zero, zip, nada, burn the witch

Apple – +1

Microsoft's Zune – Don't ask me, I'm not a 23 year old Urban Goth who listens to independent garage bands and hip hop.