Today was sunny and in the 60's (that's 'warm' in Celsius). Since issues are still open on the book I am foot loose and loosed my feet to Cape Girardeau today.
Cape Girardeau is a Lovely little town on the Mississippi, with a smaller college (Southeastern), some great architecture, and about the friendliest people I've met in Missouri. I ended up chatting my way through town.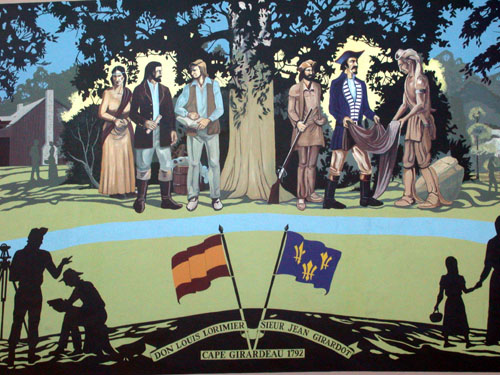 First off, Cape Girardeau is the world's only inland cape, originally built on a rocky promontory on the Mississippi. There's a park by the water you can walk along, watching the barges float past a rather pretty bridge.
Today the wind was blowing so strong it formed white caps on the river, and a mist, like fog, in the distance. I kept getting sand in my eyes, and spent most of my walk crying, which somewhat fits a lonely river walk. Thankfully I wasn't seen or there might be concern I was going to throw myself into the river in despair. The need not have feared, though — a person would not commit suicide by jumping in a river with three cameras.
Unless they were weights.
Didn't stay too long by the water.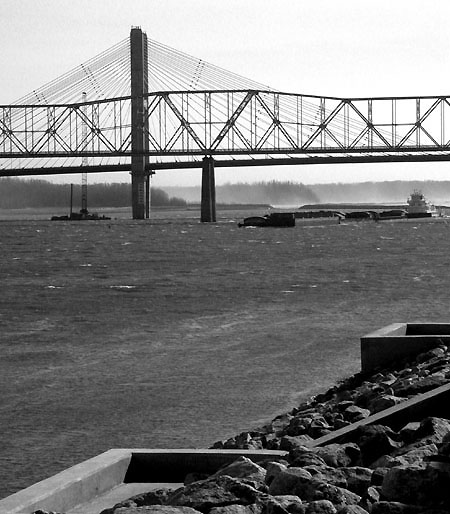 Since Old Muddy can be a wild beast at times, there are canals through the town to help with water overflow. In addition, there's a huge flood wall built between the town and the river. By the height of that wall, that town must have faced some serious flooding.
The buildings in town were interesting. Several vintage civil war era buildings, some in good repair, some with just enough weathering to make them interesting. And because of the college, you have a mix of old and new, including beautiful old buildings with wrought iron trim, and beer cans in the grass surrounding. It is not your ordinary waterfront, tourist town.
Additionally, it has a thing for murals. There are murals everywhere. The nicest of the bunch was the mural pained on the river wall–The Missouri Wall of Fame. It features famous people who have been born in Missouri. Among them are Mark Twain, of course, Walter Cronkite, Betty Grable, George Washington Carver, President Truman, General Omar Bradley, Josephine Baker, and several others.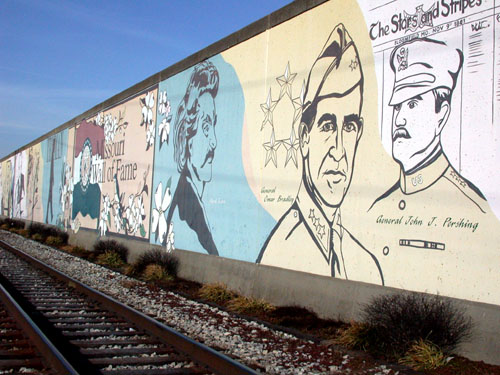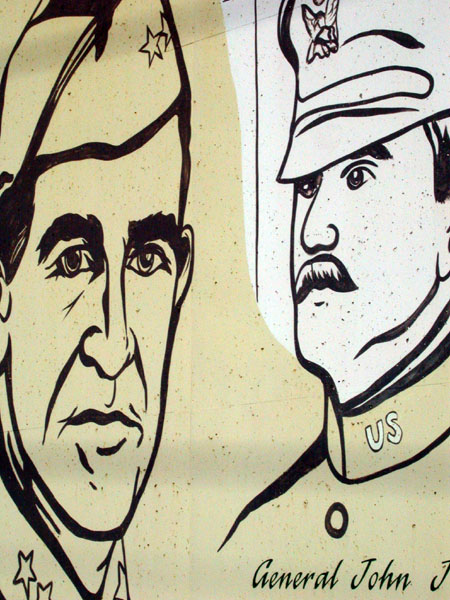 Today was a quiet day — too quiet in some ways, because I think my picture taking generated interest in its own right. However, that led to fun conversations. For instance, I was taking pictures through a closed antique shop window when the owner came up and we started chatting about the sewing machine in the window. He said that the machine was actually listed on eBay under his username (which I will post as soon as I find the piece of paper he gave me).
His shop, A-1 Consignment was great; just a jumble of stuff, and I do mean jumble (that will make the collectors drool). The business is a part-time job for him, so it's not always open; he supplements his income selling stuff on eBay, which I thought was an interesting story to pursue (putting into my future story to-do list).
He also had a terrific story to tell about Rush Limbaugh, as well as an old Post Office letter cancelling machine but I'm fading fast, so I'm forced into being a tease, and leaving these stories for tomorrow. In the meantime, the rest of the photos.
(And its Mardi Gras this next week — I have to be healthy for the parades and the King Cake.)