A month or two ago, Steve at LanguageHat pointed out a New York show consisting of Art Deco book bindings by Pierre Legrain and Rose Adler. I was mesmerized at the beauty of the bindings, and the concept that book binding could actually be considered an art form.
I'm not an arts and crafts type of person. I don't knit or sew, embroider, build things out of wood, make things out of straw or glass or sculpt out of clay or rock. I did try jewelry making in San Francisco, but unless I create a forge and build a press in my kitchen, it's not necessarily the type of craft one can pursue in an apartment. Frankly, I have little patience for most crafts.
But the concept of bookbinding was different. I started researching it and found several books at the library on the subject, as well as resources online. The more I researched, the more fascinated I became.
For instance, pages in a book are not just stacked and glued at the end. They are usually folded into groupings called signatures and most hard cover books consist of several of these signatures sewed together, usually through the use of tapes. You can actually see these groupings if you look closely at the spine of most of your books. The term itself was from a time when a small signature was placed at the bottom of the first page of the grouping to assist in the collation of the book.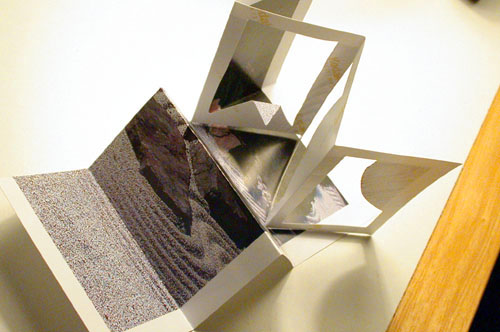 As for the binding itself, there are so many varieties, that I'm still researching some of the more esoteric, such as the dos a dos, and the complicated star tunnel book. The 'book' above is a training exercise in folding and cutting (decent folds, lousy cuts), and is a single page tunnel book. The ones most familiar to us, which is the stack of pages and a cover, usually with writing, are known as codex, a word from ancient Roman times used to describe tablets joined together on edge. This style is not to be confused with pamphlet binding or album binding, though all three look similar.
Bookbinding is now usually referred to as book art, and some universities, including Washington University here in Missouri offer Fine Arts degrees in the book arts. One of the more well known artists who specializes in bookbinding is Richard Minsky, one of the guiding lights behind the Center for Book Arts in New York. His Bill of Rights exhibition is both an inspiration and intimidation for a newly interested practitioner of this old, old art.
However, I think I will pass on incorporating live explosives in any of my work, though the use of book art as message has definite appeal.
I don't think it's surprising that many of those who practice book arts also like to write, which adds to the personal appeal of this beautiful craft. At this site that covers ancient Japanese bookbinding techniques, the artist, Graeme, recounts his early introduction to hand bookbinding:
One evening my father came home from work and held something out to me. It looked a little like a book. On closer inspection, it turned out to be a school geography text book, bound in green cloth and with erratic gold lettering on the spine. Perhaps it had been in a traffic accident at the mobile library.

'Lionel at the office did it at his book binding evening class. It's not bad is it?'
I said, 'Wouldn't it be kindest to take it to a qualified librarian? He could give it a lethal injection and put it out of its misery?' No, I didn't really say that, what I said was, 'Mmmm, yes. Mmmm.'

It was important to sound neutral. My father could be unpredictable, and any trace of enthusiasm in my voice might encourage him to take up book binding himself. Without warning, all my school text books might suddenly be transformed into green-bound grotesques like the one in my father's hand. I was responsible for those school books – I might still be in detention when I was thirty.
As said earlier, my libraries have several books on book arts and bookbindings and I've checked most of them out, including an old one from turn of the century, when bookbinding was considered a useful skill to teach in schools. Another of the books focuses on increasing your own self-sufficiency by creating your own paper and books, including excellent demonstrations of some of the equipment used by bookbinders, which I'll get into more at a later time.
One can spend a lot of money starting this hobby, but you can also start small, with a minimum of equipment such as an awl for punching holes in paper, tapestry needles, linen thread, greyboard for covers, a bone folder, used for folding pages, and, of course paper. Luckily the art store near where I live not only has bookbinding supplies, but it usually runs a special on paper every week. I've spent three days there this week picking through the bins to match end papers to signature sheets to cover papers, and then on to the fabric store to get complementary thread. I never get tired of going through the papers and fabrics. Or the satisfaction of creating something unique with my hands–something that's not wired to the Net, or plugged into the wall.
Books aren't just thrown together. You have to have a basic idea in mind, and then you carefully find the material to create the book. I currently have five book projects in the works, including a codex, two Japanese stab binding books, and two star tunnel books, one of which is going to feature some interesting and perhaps even hauntingly familiar photographs.
I am now in the midst of finishing my first significant work, a journal bound using the Japanese stab binding technique, one of my favorites, and consisting of several sheets of handmade 'weed' paper printed with photos, with five sheets of bond paper in-between each to act as blank journal pages. The weed paper is a light golden green with flecks of plant material, which does an amazing job with the photographs. The cover is a rich tomato red, nicely textured on one side, and flecked with gold silk threads on the other. I'll use the textured side as the outside cover, and the flecked side for the end papers. All I need to do is find the right combination of gold/green threads for the binding and I'll be finished.
One thing that makes this journal stand out is the last page contains instructions on how to remove the binding, take out the white bond journal paper, use it as pulp for new homemade paper, and then put the book back together again with the homemade paper sheets in addition to the existing photographic sheets. A journal in perpetuity, unless one wants to keep the writing; a statement about the ecology of bookbinding in addition to the beauty. Every book tells a story, and it isn't always to be found in the writing.
This book is a present for a dear friend, for his 60th birthday (there, the cat's out of the bag). It's not an expensive gift nor a glamorous one, and it probably won't even be all that polished, I imagine–I am new at this. But it is a gift from my hands and my heart.