I was very psyched about the hikes today so you can imagine that I was a bit disappointed to get to the park and find all the trails closed. More than closed – one of the trails I'd planned on taking today was totally gone. The good weather today lured me into forgetting that riverside hikes should be traversed in the dead of winter, when the cold freezes the ground and stabilizes it. One should definitely avoid riverside hikes after record levels of rain.
However, the trip wasn't a waste. The drive was nice and I kicked around the trail heads a bit. On the way back I finally stopped by a covered bridge I'd seen a sign for before. It was a pretty solid piece of wood, and I wasn't that impressed with it – until I read the plaque that it had been built in 1872.
I'd do a color photo, but the bridge looks too much like a highway department's maintenance shed. I'm sorry, I know I lack romance, but I'm not one for covered bridges. It's a bridge, it's a building, and I'm incapable of conjuring up the sounds of horse hooves ringing on hard wood, or to visualize lasses in white crinoline on their way to market day. I looked for a poem that would invoke a deeper appreciation of covered bridges, but all the ones I found were as insipid as that foolish book and movie, The Bridges of Madison County.
Leave it to B & W that if it can't improve the shot, will at least bring out the age of the subject.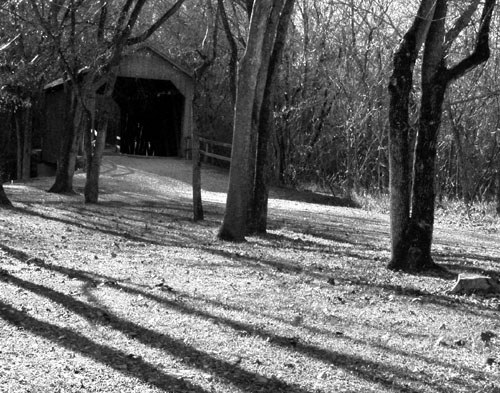 As I drove back, I could see that the rivers were high, higher than I'd seen before. On a hunch I stopped by my favorite Meramec River location to find that the water was actually up to the top of the cliff I normally climb down. It was running fast, too, with much larger debris than normal, including several trees.
Today the temperature rose to 75F, sunny with a warm wind. We'll have snow on Monday. Welcome to St. Louis.