Tomorrow I take off for home, and as I'll have no time to play along the way, this will be my last digital postcard for this trip.
I spent this morning making one last visit to Dog Beach (Crissy Field/Golden Gate), to the Ferry Building and the Embarcadero, and yes, even to the Big Damn Bow and Arrow (BDBaA).
There was some odd activity at the BDBaA. It looked like a guy filming another guy in front of the BDBaA, while that guy was taking pictures, or pretending to take pictures, and the person being filmed was also being photographed. What I couldn't get into the picture was a woman just out of the frame who was also taking pictures of all of them.
You know, if this were any city other than San Francisco, I would find this strange.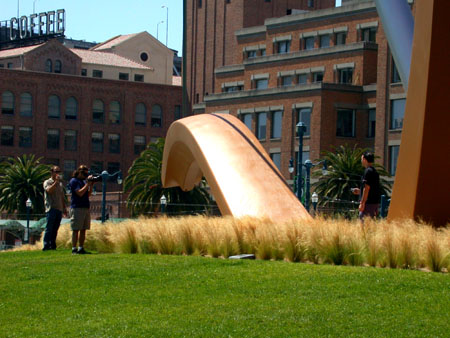 At the Dog Beach, I was reassured to see that yes, part of the beach does still allow dogs, and spent some time this morning watching then. The big dogs are impressive, but it's the little ones that always catch my eye. Makes me want to get a dog until I remember what my cat, Zoe's, reaction would be to me getting a dog.
In particular, a little Yorky, feisty little bugger, kept running at the waves trying to take bites out of them. I nicknamed him Bush Junior.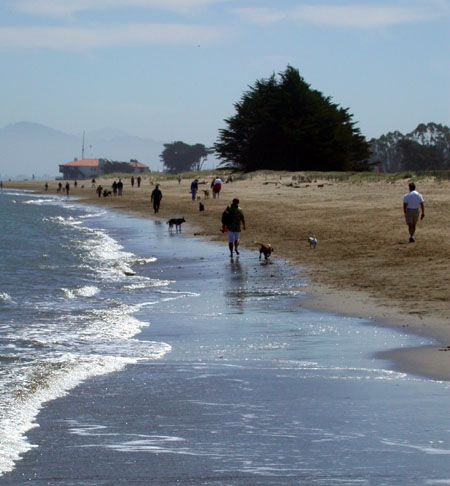 When I leave tomorrow morning, I won't be leaving my heart, as the song goes. I had a good time in San Francisco, both this trip and when I lived here. I've enjoyed the bridges and the beaches, and the dogs, and the surrounding lands. Now, though, my place is in St. Louis.
Well, in St. Louis at this moment — if an opportunity I've been given works out, I'll be moving again in the near future.
Another day, another adventure. See you when I get back home.