Recovered from the Wayback Machine.
Todd Mezzulo from O'Reilly, the person responsible for marketing the Practical RDF book sent me a copy of the cover, which I've embedded below. Now, the book isn't going to be on the streets until Spring, so contain your excitement…a little.
(To be honest, I'm really excited about this book. Really, really.)
The bird pictured is a Secretary Bird, a predator bird originally from South Africa. The Secretary Bird is known for it's prowess in killing snakes, having the nickname of "serpent eater".
It grabs the snake with its strong toes and beats it to death on the ground, while protecting itself from bites with its large wings. Finally, it seizes its prey and hurls it into the air several times to stun it.
I found this particularly humorous because my last sole-author book for O'Reilly was Developing ASP Components, featuring none other than a serpent on the cover. I joked with Todd that the choice of critter for the Practical RDF book is especially appropriate because once I made the decision to go with RDF for my next subject, I never looked back at COM+ and ASP. RDF figuratively 'killed' ASP for me; I just didn't pick it up by the tail and throw it around. Much.
But all this isn't why the cover design folks at O'Reilly picked the Secretary Bird. I think they just liked the long tail.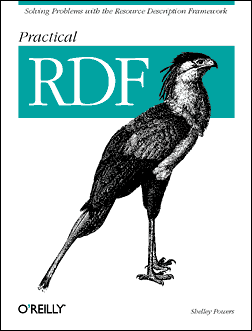 Hey! Don't mess with the Burningbird — Serpent Killer!