Recovered from the Wayback Machine.
It wasn't all work and no play this weekend. I also explored two new conservation areas: Weldon Springs and the new Columbia Bottom. I found both of these through the Missouri Conservation connection, which is probably the best online nature site I know of — check out the interactive maps.
The new Columbia Bottom conservation area is quite large, and borders the Missouri on one side, and the Mississippi on the other, and meets at the confluence of both rivers. The confluence isn't that impressive a sight: two big old muddy brown rivers meet, becoming one bigger old muddy river — Old Muddy itself, the 'sip.
However, too hot to hike at the Bottom so I went over to the Riverfront park area, and crawled among the weeds and the insects to grab some photos of herons.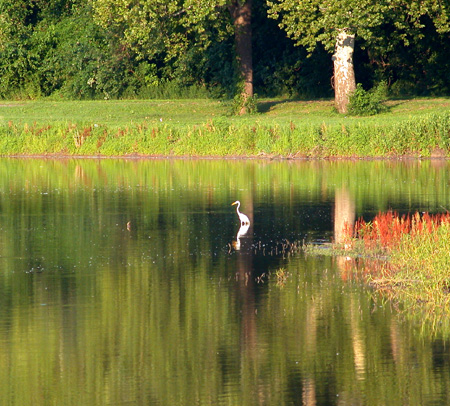 I did manage to get out for a walk along the Chain of Rocks Bridge. One nice thing about a bridge spanning the 'sip, there's usually a breeze blowing. And when you're covered in sweat, even a warm breeze can cool you down.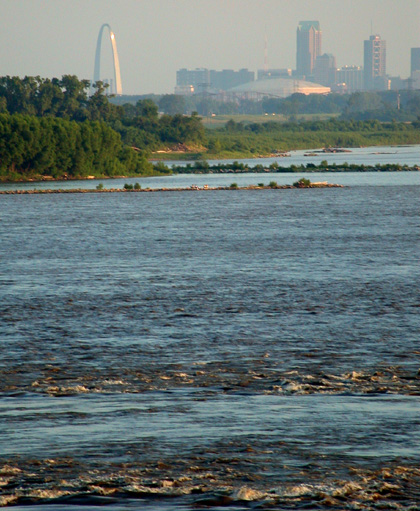 It was close to sunset out at the bridge, and as usual for Missouri, the colors of the sunset here are a photographer's best friend. Check out this photo of the water intake castle — pretty colors, eh?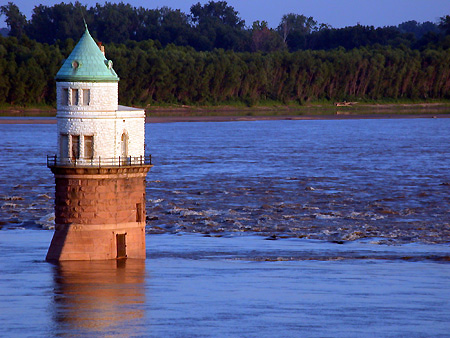 Weldon Springs was hot and very humid, walking among the trees just after heavy rains last week. My three mile hike was cut short at about 1 1/2, because the weather saps your energy. However, I was able to spend some time watching two butterflies as they worked in and around some flowers.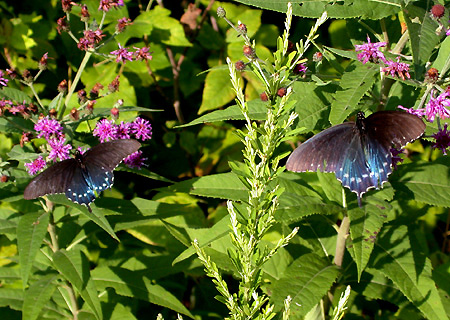 Whenever the butterflies tried to occupy the same bud, they'd flutter around each other a moment, in a rather pretty ballet of wings, and then they'd move on, one to the flower, the other to another flower. No intervention required on my part.