The robins were by yesterday, in their annual migration. I grabbed a few photos, which I'll scatter about this writing.
We were hit, or I should say, sideswiped by a tornado Sunday night. It wasn't a surprise: we had tornado watches all night, and you could see the storm coming toward us on the radar. Still, we've had warnings before and not much has happened, so I went to bed about ten on Sunday after taking two nighttime Tylenol to help me sleep.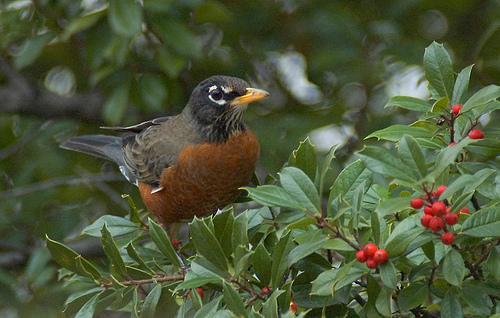 I lay in bed, half asleep listening to the wind and rain, when I noticed that the sound was getting louder and more steady. People have said that tornadoes sound like trains, but I didn't get that impression. The sound was unlike anything I've ever heard, and as it got closer, I grew more alarmed until I jumped out of bed and opened the curtain. Outside was rain and hail and wind whipping all about in a chaotic fashion. When one of the lamp posts fell over, I grabbed my robe and called out to my roommate that we were getting hit by a tornado.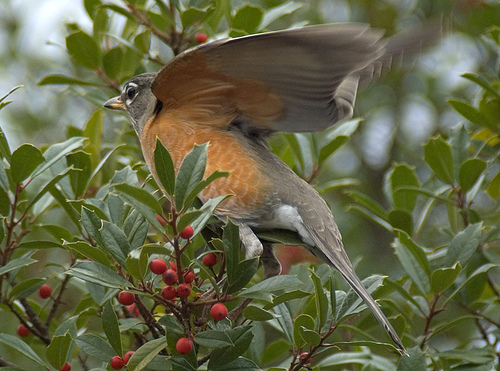 He was still up, watching weather on television and assured me that this wasn't a tornado — they had turned off the tornado warning just a few minutes before. It was just a strong wind is all. I stood in the hall, robe clutched around me and listened, and as suddenly as the wind had started, it was gone. He went back to bed; I went back to bed.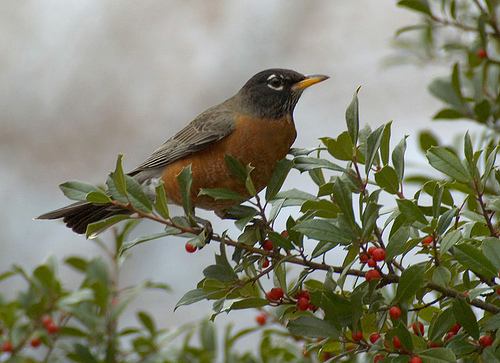 Strong wind my butt. The next morning I took my roomie into work, and we passed the Wal-Mart near our home and saw large signs tossed about, one half driven into a dirt bank; steel fences twisted into pretzels; electric poles snapped like toothpicks. It was an F0 tornado, with winds of 70 miles per hour. It had skipped about, snapping large trees into pieces and damaging several houses, as well as creating the damage to the shopping area. It was just a baby twister, and luckily no one was hurt.
The unseasonable warm weather is gone now–swept away by this last storm of too long a year of storms–and it's very cold. I don't mind so much when I get a visit from my robins.