Recovered from the Wayback Machine.
I'm working on a very long essay on the recent dam break here in Missouri, the hurricane effects in New Orleans and other topics, and am out taking photos as annotation. The writing may be a long time in coming, but I thought I would post photos as I go along.
Monday I went to the Johnson Shut-Ins to see the effect of the Taum Sauk Reservoir dam break. It was…extraordinary. The trees and much of the scrub in the area where the campground and picnic areas are almost all gone, or damaged beyond salvaging.
There were several of us about, most local to the area. We were gathered in a group trying to figure out where the water came from, when one man mentioned that the water came from a direction in back and to our left. How can this be, I asked, because the trees were lying down towards the left. According to another man local to the area, the water had come down with such force that it hit the mountain to the right and bounced back. It was this bounced water that took out the ranger's home, pushed the semi off the road, and knocked down the trees by the road.
The campground and shut-ins got the water directly. So much so that rebar from the dam was twisted in and around the granite pillars of the shut-ins. In the summer, during the day, all 57 campground spaces are filled, as well as the space for 110 day use cars, with vehicles lined up to get in for miles. During a peak time in the summer, an estimated 1000 or so people could have been in the impact zone of the flood–a probable 250 in the direct path of the water.
I've also added some Google map images to the photos, to demonstrate the water flow and where items I photographed were found.
As the following Google maps snapshot demonstrates, the water flowed down between mountains, and came out pointed directly at Johnson Shut-Ins. It flowed down Black river, in both directions at first, and bounced back from the mountain bordering the Shut-Ins across from the water path.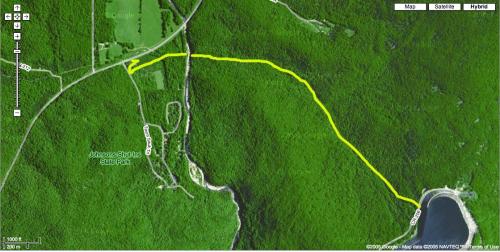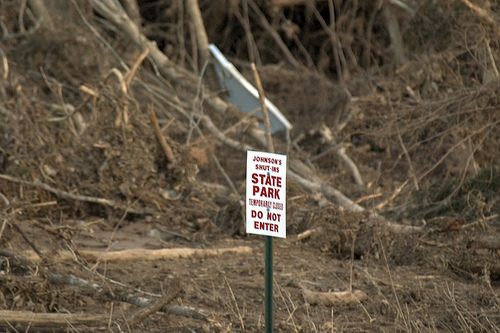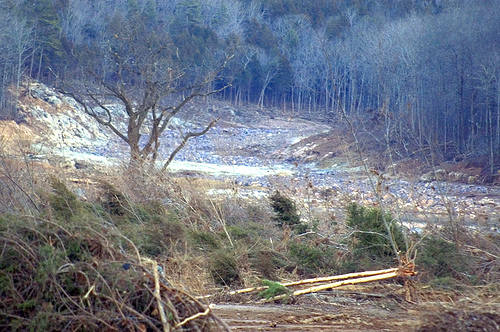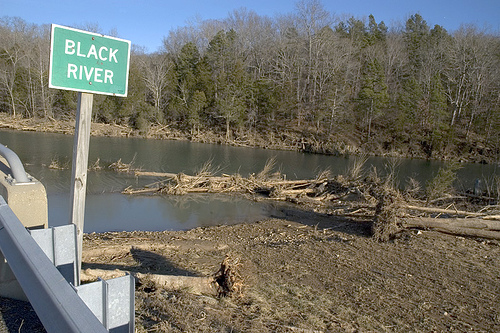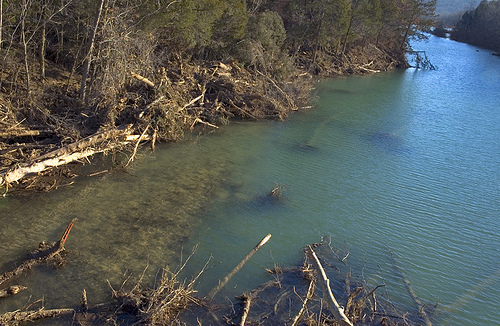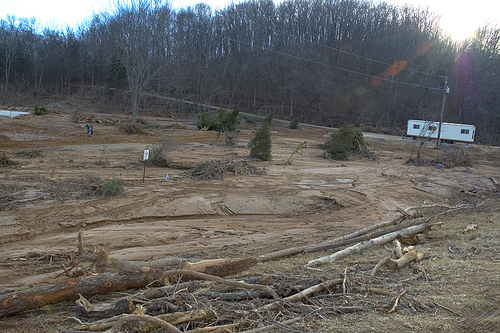 It hit the mountain, bouncing back and taking the Ranger's home. The following photo encompasses both the path of the flood and the home. The light colored foundation in the right side of the following photo is what's left of the home.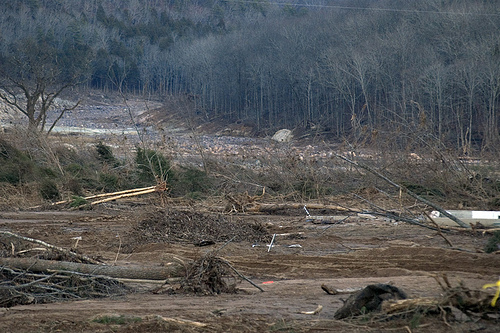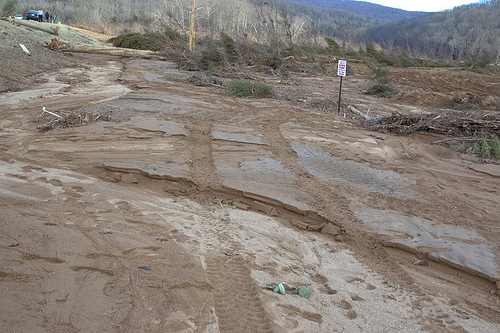 Knocking three cars and a semi carrying zinc into an empty field across from Highway N.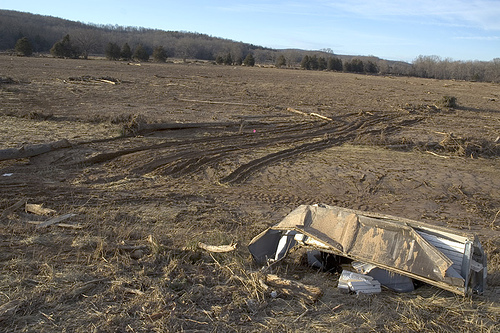 Debris, both from the dam (rebar and plastic liner) as well as from the ranger's home was still scattered about in and among uprooted trees and the inches of mud and silt over everything. The following map shows a circle where the Ranger's house was, and Xs marking where debris in the photos was located.