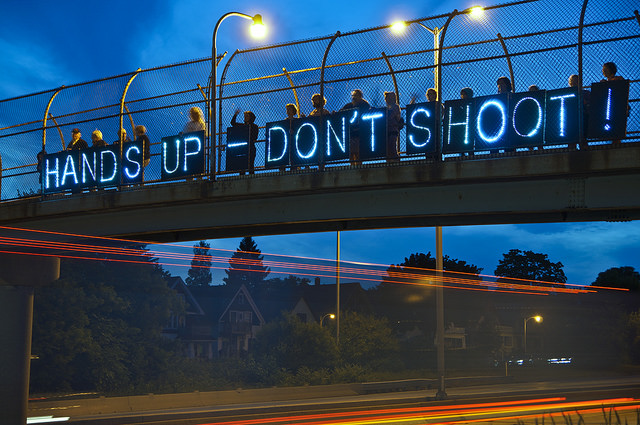 Our Governor Jay Nixon has decided to roll out the troops by declaring a state of emergency before the Ferguson Grand Jury decision. As LOLGOP tweeted:
Nothing says you trust your institutions and constituents like preemptively declaring a state of emergency.

— LOLGOP (@LOLGOP) November 17, 2014
The St. Louis County police have been put in charge of a unified force. This is the same police force that decided armored trucks and men with high powered rifles pointed at peaceful demonstrators was an appropriate action. The same police force that spent over $170,000 stocking up on tear gas and rubber bullets. Oh, I'm sorry, make that sting balls.
Two things we've learned from Nixon's action. The first is that the decision will most likely be announced very soon. The second is that the police and Nixon have known all along what the decision will be, and that's Darren Wilson won't be indicted.
Nixon and the rest of the leadership in this area are going to do everything in their power to ensure demonstrators act 'peacefully', which translates into 'sit down, and shut up'. No one wants to hear angry voices. No one in the power structure wants to see anything interfere with the upcoming Christmas spending season. Many of the white people in this area are tired of hearing about Ferguson; tired of being on national TV. They want things to go back to normal.
It doesn't matter if what's normal in St. Louis is morally wrong. It doesn't matter that since Mike Brown was shot, other black men have also been gunned down by St. Louis area police. It doesn't matter that we've heard a lot of words about things improving, all the while actions reflect the opposite—including spending thousands of dollars on tear gas, while doing nothing about the unequal justice system that still saturates the communities surrounding St. Louis. The leaders can't even keep that idiot in Ferguson from shooting off his mouth, seemingly in a deliberate attempt to further inflame emotions.
In the last few weeks, every time we've been told that our Constitutionally protected rights would not be infringed, the statements have been followed up with a "But…"
"This is America. People have the right to express views and grievances, but they do not have the right to put fellow citizens and property at risk," Gov. Nixon said Tuesday. "Violence will not be tolerated."
Sorry, Mr. Nixon, but the protestors aren't the ones who spent $170,000+ on weapons and incendiary devices. Who exactly is the party threatening violence?
Governor Nixon is telling us we're all welcome to exercise our freedom of speech, as long as we don't speak above a whisper. We can assemble, as long as we do so politely. We can express our anger and our hurt, but we should do so tastefully, and minimize our impact on the upcoming Rams game.
Bull. I think we should yell as loud as we can for as long as we can, and meet in the streets and dance a rejection of the status quo. No one pays attention to the group quietly sitting to the side in peaceful protest, and we need that attention. We won't get meaningful change without that attention. We don't have to burn the place down, but we should light a fire under Nixon's butt and tell him to do something more useful than declare a state of emergency and call out the Guard on the people who put said butt in the Governor's office.
Photo by Light Brigading CC BY-NC 2.0